Not your average concert documentary, Give Me Future electrifyingly follows EDM musical trio Major Lazer as they navigate the behind-the-scenes challenges of staging a historic free concert in Havana, while also examining the recent changes in Cuban culture.
A young Cuban woman plays around on her MP3 player and laments, "I live in a city that is stuck in time, all the noises are old": So begins Austin Peters' Major Lazer concert doc. The trio of musicians―Diplo, Jillionaire, and Walshy Fire―pride themselves on touring nontraditional areas such as Jakarta and Islamabad with their dancers and ever-growing family of collaborators. The focus of the doc is Major Lazer's now-legendary Havana concert. Taking place in the José Martí Anti-Imperialist Platform, a venue where various anti-American rallies had been held over the years, Major Lazer's performance to a crowd of nearly 500,000 rightfully feels like so much more than just an EDM show. Peters beautifully weaves stories of Cuban youth and the politics of information-sharing in the 21st century around local performances and concert footage. As Major Lazer's album titles suggest, "Peace Is the Mission" and "Music Is the Weapon," and once the group takes the stage in front of half a million, the goal is felt―and is truly a sight that must be experienced to understand.
Showtime: Friday, June 2nd, 2017 at 9pm at Ark Lodge Cinemas, 4816 Rainier Ave S, Seattle, WA 98118: Purchase tickets
Details:
Director: Austin Peters
Premiere Status: Seattle
Country: USA, Cuba
Year: 2017
Running Time: 85 minutes
Producer: Jay Peterson, Jack Turner
Cinematographers: Deering Regan, Eric Yue
Editors: Peter Hedberg, Ezra Paek, Sheila Shirazi, Zachary Suart-Pontier
Music: Ben Flesch
Language: English, Spanish
Has Subtitles: Yes
Format: DCP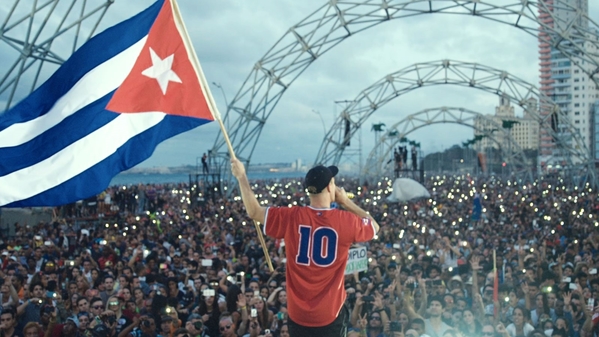 Stay up to date on upcoming EDM events in the Seattle area by following the EmeraldCityEDM Event Calendar, and enter to win free tickets to local EDM shows on the EmeraldCityEDM Contests & Giveaways page.
Sign up for our email update list to emailed about new releases from local producers, show announcements, Seattle area EDM news & free show tickets: