USC Events announces Bliss: Transcendence at the WaMu Theater on Saturday, May 6th!
Last year, we awakened this harmony and connected our minds and our senses as we captured and sustained our Bliss. We reveled in self revival and experienced love and light as we danced the night away. One revolution around the sun later, we prepare to gather once more to evolve our sonic exploration to new elevations – to continue to grow together through a world of musical metamorphosis. We prepare to transcend the every day worries and limitations of the modern world and travel together to a place where time and space stands still, a place in which all that matters is the Bliss and universal connectivity that music fosters. -USC Events
Set Times: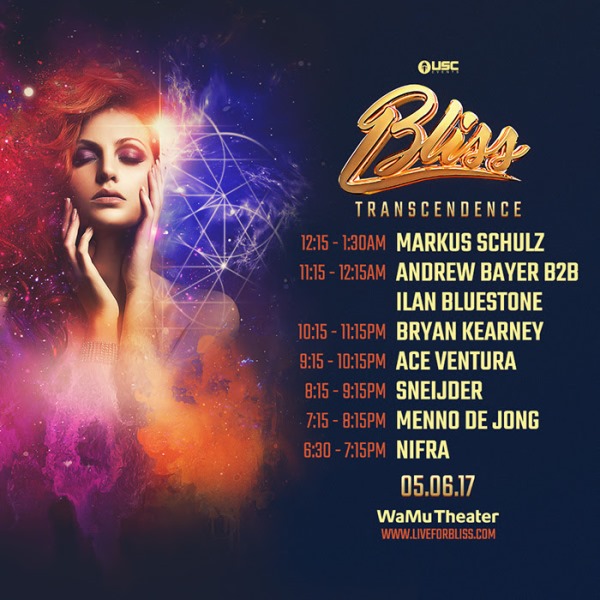 Lineup:
Markus Schulz
Andrew Bayer B2B Ilan Bluestone
Ace Ventura
Bryan Kearney
Links & More Information
Purchase presale tickets online
Facebook event page
LiveForBliss.com
Travel packages from Unity Travel
18+
6:30pm – 1:30am
WaMu Theater
800 Occidental Ave S
Seattle, WA 98134

Stay up to date on upcoming EDM events in the Seattle area by following the EmeraldCityEDM Event Calendar, and enter to win free tickets to local EDM shows on the EmeraldCityEDM Contests & Giveaways page.
Sign up for our email update list to emailed about new releases from local producers, show announcements, Seattle area EDM news & free show tickets: