Hi EmeraldCityEDM readers, I wanted to clarify that as of 6/18/2012, the Paradiso Festival is NOT sold out.  GA tickets were briefly unavailable on Ticketmaster over the weekend, however per USC Events statement on 6/18/2012:   "Tickets are not sold out – there is a glitch on Ticketmaster that will be fixed soon."  See the USC Events statement for yourself via comments on the Facebook Event page.
However, per this press release published 6/5/2012, Paradiso is billed as the "largest Electronic dance music event ever staged in the Pacific Northwest".  Attendance is expected to exceed 20,000 people.  With the capacity of the Gorge at approximately 23,000 people, Paradiso is EXPECTED to sell out – though it is not sold out as of the writing of this post. 
See you at the Gorge!  
 
Schedule: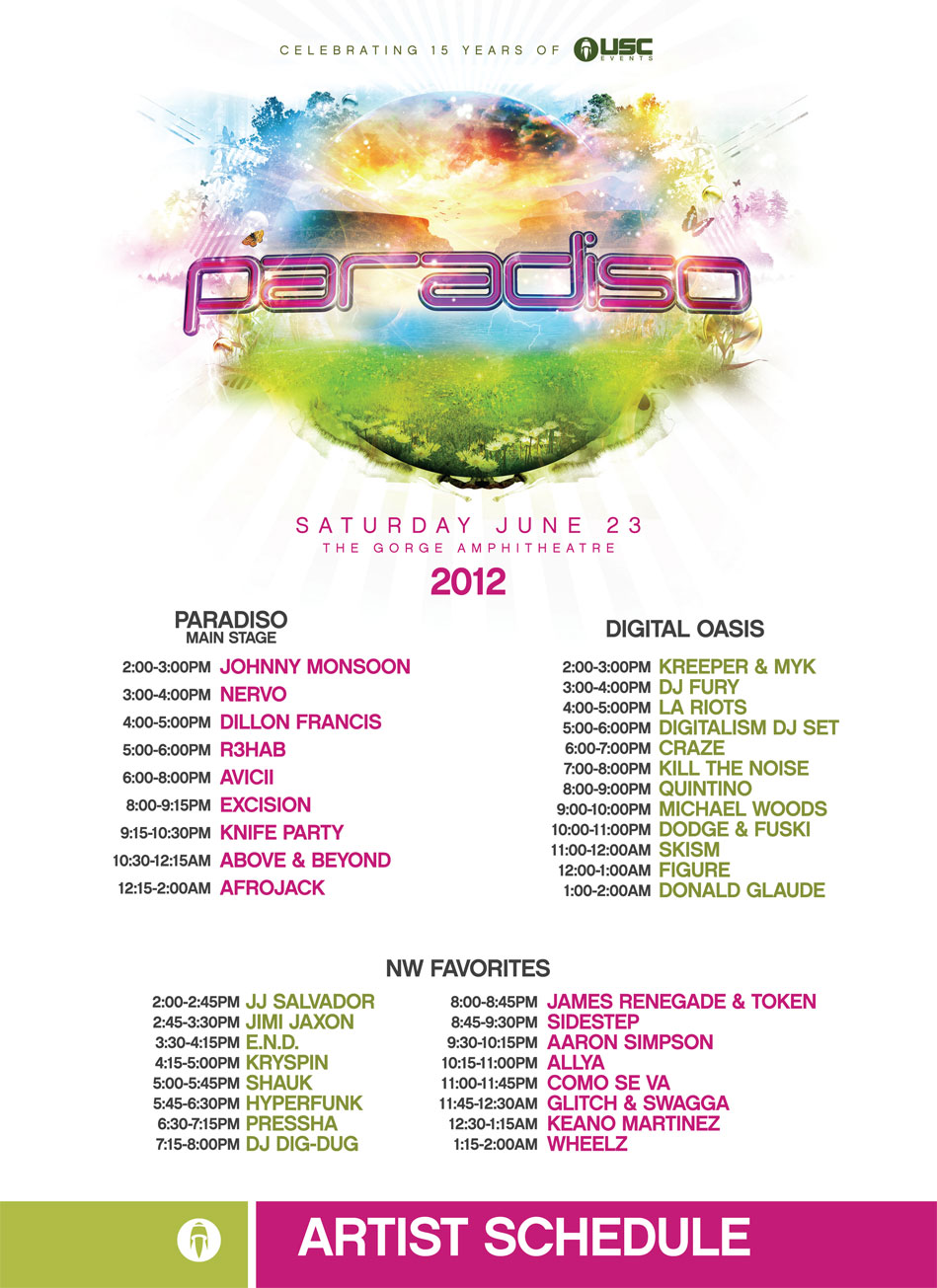 Full lineup as of 6/18/2012:
Avicii
Afrojack
Above & Beyond
Craze
Digitalism (DJ set)
Dillon Francis
Dodge & Fuski
Donald Glaude
Excision
Figure
Fury
Kill the Noise
Knife Party
LA Riots
Michael Woods
Nervo
Quintino*
R3hab
Skism
*Chris Lake was replaced with Quintino, read more about this change here.
Local Artists performing at Paradiso: Johnny Monsoon, DJ Dig-Dug, Hyperfunk, Sidestep, Allya, Kreeper & Myk, Aaron Simpson, James Renegade & Token, Kryspin, Wheelz, Pressha, Keano Martinez, E.N.D., Jimi Jaxon, Shauk, Como Se Va, Glitch & Swagga, JJ Salvador.
Paradiso Festival links:
Facebook event page
ParadisoFestival official website
Purchase tickets online through Ticketmaster/LiveNation