Set Times: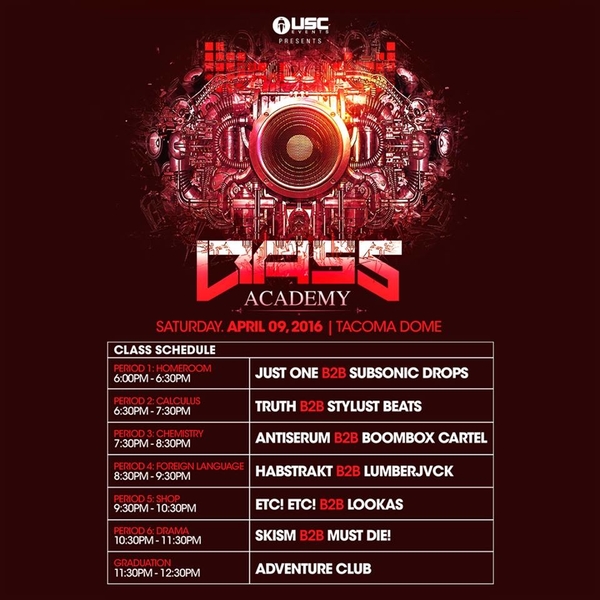 USC Events announces Bass Academy on Saturday, April 9th at the Tacoma Dome with Adventure Club headlining along with Skism, Must Die!, Etc!Etc!, Lookas, Habstrakt, Lumberjvck, Antiserum, Boombox Cartel, Truth, Stylust Beats, and Just One and Subsonic Drops!
In a day and age where educational curriculum is one-dimensional, focusing on one method of learning, USC Events is proud to announce the return of a course geared towards all types of learners'. It gives us great pleasure to announce that the Bass Academy, a course created to appeal to all types of learners', will be returning the #PNW with some of the world's most renowned Professors of BASS MUSIC. Whether you're a veteran Bass Enthusiast or newcomer to this course material, the Bass Academy is crafted for all levels of Bass-ucation!! #PNW, prepare for a course comprised of enthralling visuals, heavy-hitting beats and of course, sensory-stimulation!! -USC Events
Links & More Information:
Purchase presale tickets online
Facebook event page
ENTER TO WIN TICKETS FROM OnlyTheBeat VIA FACEBOOK!
18+
6pm – 12:30am
Tacoma Dome
2727 East D Street
Tacoma, WA 98418
Ticket prices will start at 48$ (not including fees) and go on sale Friday, March 4th 2016 at 10am PST. Prices will increase as time passes so purchase sooner rather than later to save $. Purchase tickets at the Tacoma Dome box office to avoid paying Ticketmaster fees.

Official Promotional Video:
Stay up to date on upcoming EDM events in the Seattle area by following the EmeraldCityEDM Event Calendar, and enter to win free tickets to local EDM shows on the EmeraldCityEDM Contests & Giveaways page.
Sign up for our email update list to emailed about new releases from local producers, show announcements, Seattle area EDM news & free show tickets.