Refund Information: 50% refunds of two day passes and camping passes will be automatically processed on August 11th, 2023 to original methods of payment. If you wish to donate your refund to the families of Brandy and Josilyn, you must log in to your Frontgate Tickets account and opt-in to the refund donation by July 30th at 11:59pm PST. Donate your refund in Frontgate Tickets by navigating to Account > Order History > View Order Details. If you do not wish to donate your refund, nothing needs to be done – it will be refunded automatically.
7/5/2023 Update: James Kelly pled not guilty to all charges on July 5th, 2023. His next court appearance is scheduled for July 25th with the trial set to begin on August 25th.
6/28/2023 Update:
Komo news updates from Lily Luksich (former girlfriend of shooter) 'I'm still processing it all': Former girlfriend of accused Gorge Amphitheatre shooter speaks out from hospital. Official statement:


What happened to me and the other victims on June 17 at the Gorge was an unthinkable tragedy. My deepest sympathies go out to the other victims and their families/friends who have been affected.

I am still processing it all and will be for a long time. Currently, I am still hospitalized at Harborview Medical Center, but every day I am improving under the care of my nurses, doctors, family, and close friends. My recovery is going well, but it is difficult as I try to stay optimistic.

I would like to thank my family, friends, local community, and strangers who have been supporting me, sending well wishes, and praying for me. It is felt and is giving me the strength I need to fight. I wish you all well, and thank you so much! -Lily Luksich

Pasquale Rotella of Insomniac Events posted the following statement via Facebook and Instagram:


For those that attended @beyondwlandpnw, refund information will be available soon as we are just finalizing the logistics of giving the option to receive a full refund or donate to the victim's families.
6/21/2023 Update:
Tri-City Herald reports that the shooter was high on mushrooms and supposedly believed that the world was ending during the shooting. Read the full account here (non Paywalled link).
North Central Washington Special Investigations Unit official press release:


On 6/17/2023 at approximately 8:25 PM, law enforcement received reports of shots being fired in a campground near the Gorge Amphitheatre near George, WA. During the law enforcement response, an officer-involved shooting incident occurred. The North Central Washington Special Investigations Unit (NCW SIU) was requested and responded to assist with the investigation. At this time, the NCW SIU is handling the investigation of the preceding events and the officer-involved shooting.

The suspect in the shootings has been identified as 26-year-old James M. Kelly, an active duty member of the US Army based out of Joint Base Lewis McCord. Through investigation, NCW SIU has determined the initial shooting event occurred within a campground near the Gorge Amphitheatre, which was hosting the Wonderland music festival.

During this portion of the shooting, 29-year-old Brandy P. Escamilla and 26-year-old Josilyn S. Ruiz both of Seattle, WA, were walking through the campground and were shot and killed. A third victim, 31-year-old Andrew J. Caudra AKA "August Morningstar" of Eugene, OR, was shot one time in the left shoulder and received medical treatment at Harborview Medical Center in Seattle, WA. He is in stable condition but it is unknown if he has been released.

A fourth victim, 61-year-old Lori Williams, who was working with Crowd Management Services, responded to the area of the shots fired in a Polaris Ranger UTV. During her response she encountered the suspect who shot in her direction multiple times. Williams was struck by a single bullet that penetrated the windshield and struck her in the right side of her face shattering her glasses and causing bruising and lacerations. Williams was treated and later released at the scene.

A fifth victim, 20-year-old Lily A. Luksich of Millcreek, WA., attended the concert with Kelly. Luksich sustained two gunshot wounds to her lower extremities. Luksich was treated and has been released from Samaritan Hospital in Moses Lake.

Following the above-described events, officers located Kelly and Luksich in an agricultural field adjacent to the campground. Moses Lake Police Department Detective Edgar Salazar fired his duty weapon at Kelly striking him one time. Responding officers then quickly moved in and Kelly was taken into custody and received emergency medical aid from the officers. Officers also applied emergency medical aid to Luksich for her injuries. Kelly was transported to Sacred Heart Medical Center in Spokane, WA. and has been treated and discharged. Kelly has been booked into Grant County Jail.

Detective Salazar is 35-years-old and has been employed with the Moses Lake Police Department since 2015. Detective Salazar is currently assigned to the Street Crimes Unit and is a firearms instructor. At the time of the shooting, Detective Salazar was working in an undercover capacity at the festival. Prior to his employment at Moses Lake Police Department, Salazar served in the United States Marine Corps. -Captain Brian Chance, Wenatchee Police Department, NCW SIU, PIO (509) 888-4203
JBLM official statement:


First, the U.S. Army Special Operations Command extends our condolences to the victims and families of those affected by this act of violence. The command is aware of the allegations against Spc. James Kelly. We take all allegations seriously and are fully cooperating with the appropriate authorities. Spc. James Kelly is a Joint Fire Support Specialist (13F) assigned to the 75th Ranger Regiment at Joint Base Lewis-McChord. Kelly joined the Army in 2021. The investigation is ongoing, we refer further questions to the appropriate civilian authorities. -Lt. Col. Mike Burns, director of public affairs with the US. Army Special Operations Command

:
6/20/2023 Update:
The two victims have been identified by the Tri-City Herald as engaged couple Josilyn Ruiz and Brandy Escamilla, both of Seattle.The article also states that one of the other two victims who were shot was "severely injured" with the other suffering a non-life threatening injury. Read more here (non Paywalled link).
Krem2 (Spokane local news) reports that an EMT at the scene noted that the shooter "… was dragging a woman by the arm through the campground" during the incident. Read the full account here.
GoFundMes:


Previously Posted: A shooting occurred Saturday night in the campground at Beyond Wonderland PNW 2023, leaving two dead and the shooter injured after being shot by police. A total of five people were shot, including the shooter.
Around 8:30pm on Saturday, the first full night of the festival, a shooter entered the overflow campground area near entrance gate H and began shooting. This camping area is the furthest from the main venue and used as overflow when the main campground area is full. Police stated that the shooter was aiming indiscriminately and was firing randomly into the crowd. Police responded by issuing a "Run, hide or fight" warning and to take cover. The take cover notice did not state whether the shooter was inside or outside of the venue. Note that this is the standard response used by authorities in most active shooter scenarios. Kiro7 news reports that "… the shooter fired twice. The first time he walked away from the area, then when the police closed in he started firing randomly into the crowd."
Police pursued, shot and detained the shooter, who was taken to a hospital with gunshot wounds. Once the suspect was apprehended and the scene was secured, the event inside the venue continued without interruption at the request of police. The take cover notice was revoked and authorities stated that there was no risk to attendees inside the venue. Staff then closed down entrance gate H and Insomniac Events released the following statement around 10pm: "Please avoid the Gorge Gate H campgrounds area as it is closed due to an incident that has been handled by local authorities. There is no current danger to festival goers or the campgrounds." Saturday night was extended by one hour and Dillon Francis did not perform. An announcement was broadcast at the end of Saturday night via messages on venue LED screens, notifications from the official festival app and loudspeakers in the campgrounds. The announcement notified attendees that Sunday's event was cancelled and that the campgrounds would remain open until Monday as planned for those who had nowhere to go.
A little after 5am Sunday morning, Insomniac Events publicly announced that day two was cancelled. After confirming that family members of the two deceased victims had been notified, the Grant County Sheriff's office announced that the investigation has been turned over to the North Central Washington Special Investigations Unit (NCWSI). Due to it being an officer-involved shooting, an investigation must be performed by those not involved in the incident due to conflicts of interest. Any future public updates will come from NCWSI. When asked about why there is no information on the NCWSI website, the Grant County Sheriff's Office replied "I'm sorry. That is how they want to handle this." Previous updates were released via the Grant County Sheriff's Office Facebook post.
Fox3Now.com reported that "According to the sources, suspect was targeting the staff." These claims have not been substantiated or confirmed. Others on social media have stated that the shooter was yelling the name of a person when shooting and that it appeared that the shooter was targeting someone that they knew. Other unconfirmed reports online state that at least one member of Ground Control (volunteers) passed away. North Idaho News reported via Facebook that "One of the deceased is a worker or volunteer at the campground." This post will be updated as more information is officially released.
If you left items in a lockers, belongings may be claimed at PNWBeyondWonderland.liff.app. All unclaimed items left in lockers will be posted online by June 28th at the latest.
Pasquele Rotella, the founder and CEO of Insomniac Events, organizer of Beyond Wonderland PNW, released the following statement via Instagram: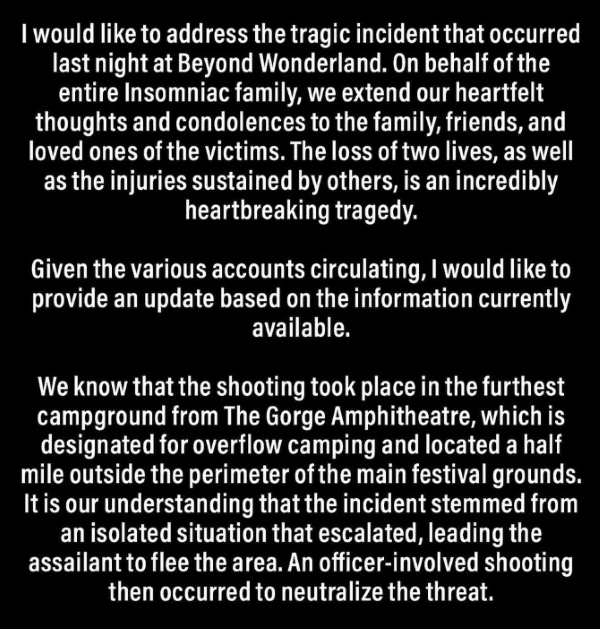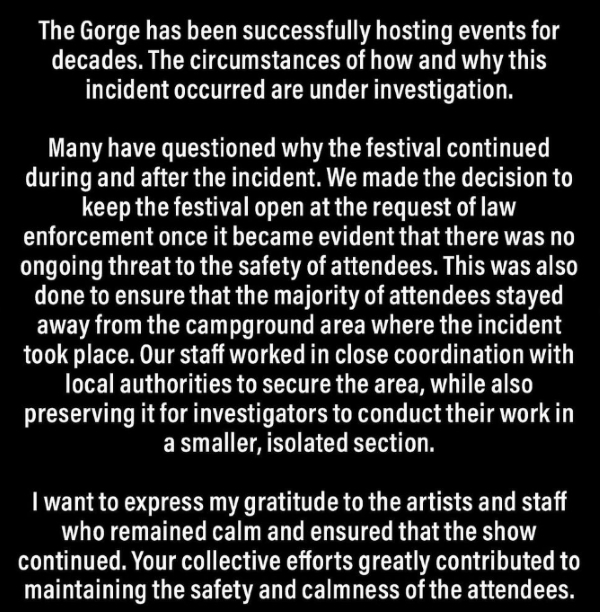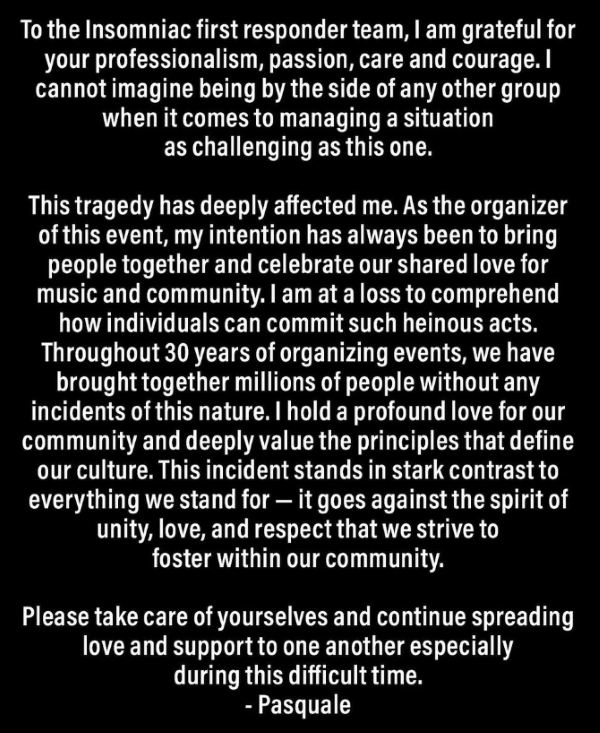 my thoughts are with the families of those passed away, injured and the whole community, never in my life thought this would happen, be safe everyone

— AFROJACK (@afrojack) June 18, 2023
I learned the news on the way to the festival, I won't lie, I didnt really feel like performing on Saturday at the Gorge. What happened at the festival camp is simply horrible, violence has no place in the world of music. My deepest condolences to the families of the victims.❤️😢

— Malaa (@Malaamusic) June 19, 2023
devastated over the losses our community has suffered, my heart is with everyone hurting right now, please hug ur loved ones and tell them how much they mean to you

— ✨SUBTRONICS✨ (@Subtronics) June 18, 2023
I'm heartbroken about last night's tragedy, my thoughts are with all the victims and their families. https://t.co/1ufURRB9Ld

— dillonfrancis (@DillonFrancis) June 18, 2023
Stay up to date on upcoming EDM events in the Seattle area by following the EmeraldCityEDM Event Calendar, and enter to win free tickets to local EDM shows on the EmeraldCityEDM Contests & Giveaways page.