Rockstar and USC Events teamed up to bring Safe In Sound Festival to the WaMu Theater Seattle for its third annual sold out bass & halloween music event! Once again we were rocked to our cores by SiS's 150,000 watt PK Sound by some of the best bass DJs on one of the nation's top sound systems!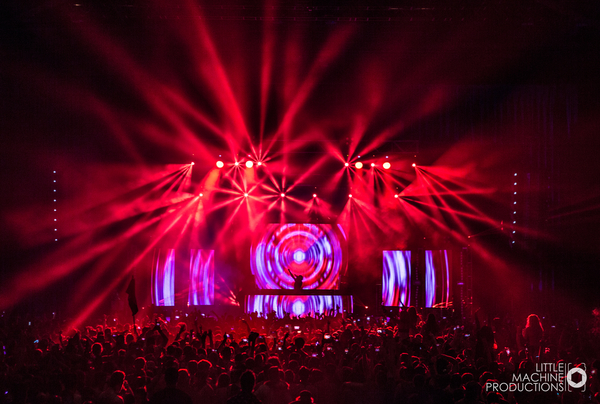 First up on the decks was Never Say Die's LAXX, who started the night off with a shout of "Who's here to party!". Lit by illuminated dancing Rockstar Energy logos, the venue began to fill up with people in costumes and rave attire. LAXX is described by Skism as "undoubtedly one of the most unique and forward thinking producers out there" and he definitely brought his signature "twitch" sound to SiS, mixing HeRobust with Zomboy and 80s music classics such as "Rhythm Of The Night". LAXX closed his set out with a brand new still to be identified track, shouting "I produced this two days ago".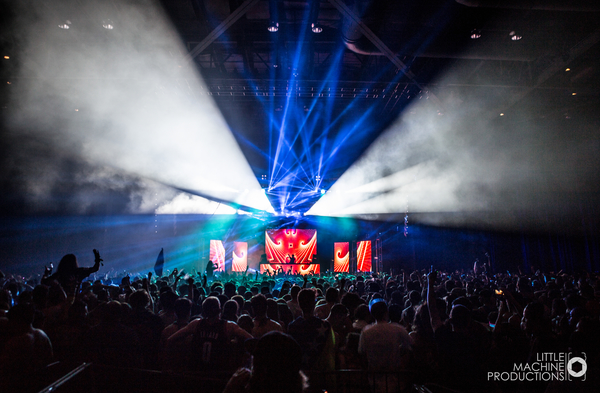 Up next was OWSLA and Monstercat's San Holo, who kept the energy level high with his energetic brand of bass. We felt like we could have been at a nightclub as he started his set up with his uplifting classic track "We Rise". He continued with his signature mix of hip hop beats over bass drops as he mixed a variety of his signature bangers with classic tracks including Blink 182's Whats My Age Again and the classic 90s/2000s Alice Deejay track Better Off Alone. We asked a San Holo fan what he thought about the set and heard:
I'm happy with the set so far, he's playing a great mix of old and new tracks and a lot of Han Solo classics.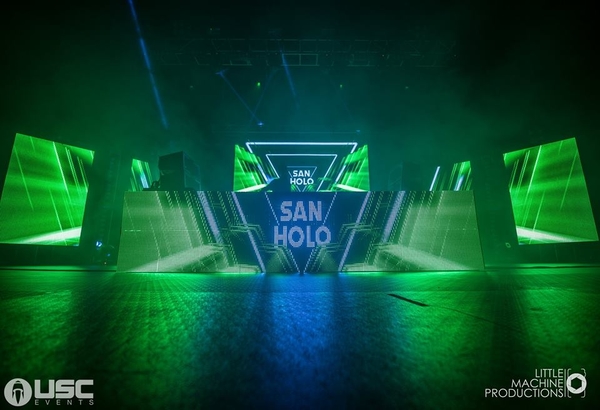 Feed Me came on stage next for his DJ set. He started off with some heavy trap music, playing one of our favorite Feed Me tracks "Rat Trap". Over the course of his set he progressed from trap to house to his signature glitch heavy bass. As his set progressed, the volume slowly began to increase – the headlining DJs of the night began and our bodies were rocked to he core as Feed Me's signature sounds permeated the entire venue via SiS's PK sound system. The crowd really went wild when he played his collaboration with Kill the Noise "I Do Coke" and Feed Me's classic "One Click Headshot". While his set wasn't quite as good as the typical full teeth headlining set, it was still really impressive to hear on the SiS PK sound system and as we were the only stop on the SiS tour to get Feed Me, we were satisfied!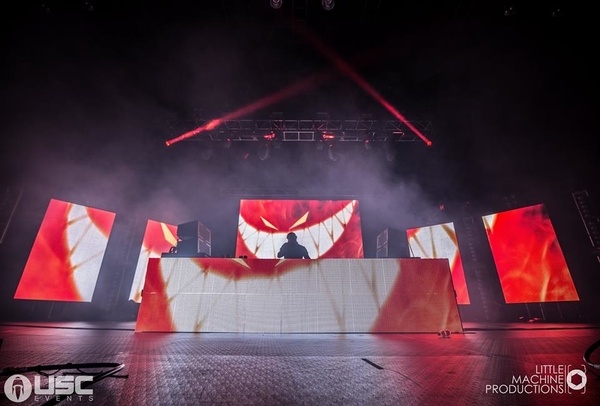 Up next was the DJ that most of Seattle was waiting for: NGHTMRE! With a shout of "Make some F'ing noise" he started off with Zomboy's "Stop Acting Like A Bitch" into his career launching track "Street (Jeff 105)". His set was heavy on the hip hop end of the bass spectrum, incorporating LMFAO's "Shots" with Skrillex & Rick Ross' "Purple Lamborghini". He continued his set on the top 40 track by playing the Chainsmokers' song of the summer "Don't Let Me Down" and Rihanna and Calvin Harris' "This Is What You Came For". Once again we heard another DJ drop Blink 182 and "I Can't Stop" by Flux Pavilion. Nghtmre had a few rough transitions but his original music more than made up for his DJing abilities. With sure to be classic tracks like his collaboration with Zeds Dead "Frontlines", he kept his unique sound and beat flowing through his remix of Keys N Krates "Dum Dee Dum" mixed with Knife Party, Flume and many more. He ended his set with a unique sounding to be identified track, which is sure to be a banger once released: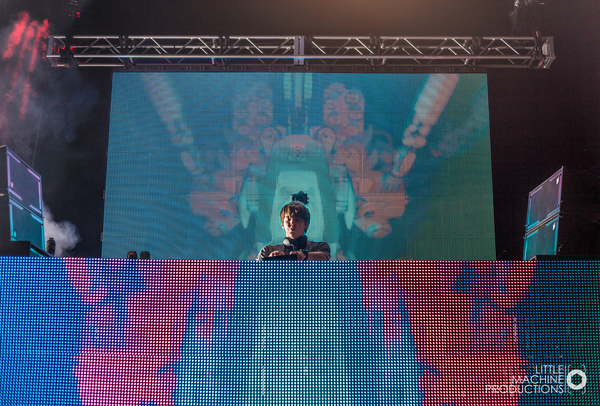 Borgore came on next for his headlining set. Explaining that he lost his voice the previous week, he launched his set with a LOUD bass drop and exclaimed "I want to see lots of titties". Seattle must not be as ratchet as we used to be because we saw a lot less breasts than we expected to – way to go ladies, stay classy! True to form, Borgore started off with his "Syrup" song then "Ratchet". Fact: Borgore states that his misogynistic lyrics are nothing more than a joke, and that he loves women… Either way, he sure knows how to drop some serious bass! From "Can't Squad With Us" to "Stop Acting Like A Bitch by Zomboy (yes, again) and "Daddy" he kept the drops pounding without missing a beat. Later in his set he exclaimed "Shout out to Washington for legalizing weed", then closed out with "Last Year (Legacy)" and "Decisions".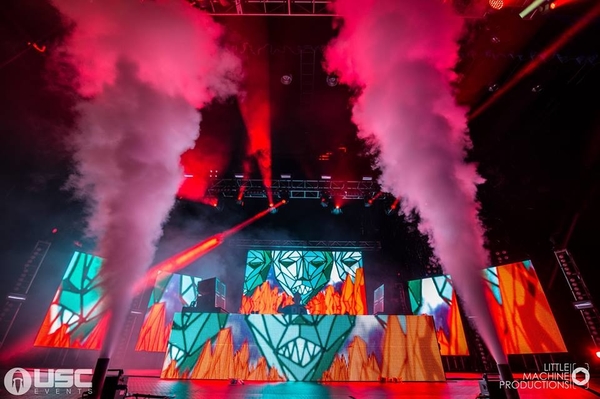 In conclusion, Safe In Sound 2016 was amazing as we expected it to be. The WaMu Theater staff were plentiful and efficient and security was fast and respectful. Some of the DJs clearly were still learning how to transition between different BPMs or tracks, but they more than made up for it with the quality of their original music. The clear highlight of the night was NGHTMRE, with Borgore coming in at a close second. There were also many songs that we heard repeatedly throughout the night, such as Zomboy and Flux Pavilion. We only wish that Borgore would have played for more than just an hour! After the event was over, we asked a few fans what they thought of this year's event:
It was my first time seeing NGHTMRE and he was F'ing incredible!
Exceeded my expectations
Hopefully see you next year Safe In Sound! Keep on rocking.
Safe In Sound 2016 Seattle DJs: Borgore, NGHTMRE, Feed Me, LAXX & San Holo
Full photo gallery (credit to Little Machine Productions).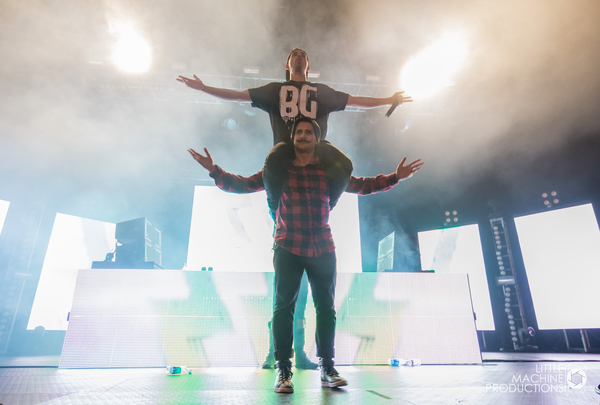 Stay up to date on upcoming EDM events in the Seattle area by following the EmeraldCityEDM Event Calendar, and enter to win free tickets to local EDM shows on the EmeraldCityEDM Contests & Giveaways page.
Sign up for our email update list to emailed about new releases from local producers, show announcements, Seattle area EDM news & free show tickets: