We chatted with Trance superstar Markus Schulz in anticipation of his upcoming open to close show at Foundation Nightclub this Thursday, February 22nd, 2018!
What do you think of Seattle? Are you excited to return to Foundation Nightclub and why?
It's a beautiful city to visit, and the people there are always very welcoming.

In terms of the scene, I'm really happy to be returning to Seattle on a more regular basis now, because for a few years, it was a case where if the Seattle fans wanted to see me play, they would always have to head across the border to Vancouver.

So I'm grateful to get these shows up close with the fans at Foundation. Combined with the arena shows that USC Events put on, I'm glad that there is a passion and effort being made to make Seattle an attraction for the big international DJs to tour. My only wish is we could somehow get the curfew lifted to go past 2am!
How do you prepare for an open to close set like the one you will be playing at Foundation?
For a typical solo set, I try to imagine the overall night as three sets combined – you have the opening portion, where you play the deeper progressive grooves and keep the mood low; allowing the ambiance to slowly build as the crowd assembles on the dancefloor. Then you have the main portion which is the usual peak hour chaos and lighting, with the big tracks and hits that you would expect in an everyday Markus Schulz set-length performance.

And finally, when you have the room grooving in unison, then you enter the afterhours, or the rabbithole, where things get weird and trippy with various techno tracks and classics.

For the music itself, I'll spend months in advance preparing; digging deep into Beatport and promos and on most occasions, I'll be listening with the mindset of "this I'll save for the solo set, and this one, and this one". So when you slowly accumulate tracks like that over several months, you're essentially putting together the building blocks of the set, and the graft in assembling what goes well harmonically can begin. And because the solo sets are generally reserved for special cities or clubs, there is more of an emphasis on getting your own productions fine tuned and being ready to unveil for the first time, along with making special reconstructions and mashups.
What makes you do so many marathon sets – is it something that you enjoy, or is requested by fans?
The reason I enjoy them so much is that they are the best means to express the true meaning behind the art of DJing. Don't get me wrong, festivals are absolutely fantastic and a privilege to be part of. But due to their nature, they are a shop window and an attempt to cast a wider net for your fanbase. And because set times are short, you are competing for the attention of thousands who didn't necessarily come to see you specifically, and you tend to play safer with your signature productions or favorites.

The open to close solo sets where essentially how I started out my career – during the residency at The Works in Arizona, I played open to close every Friday and Saturday night for seven years. And it was during that time where I learned so much about the DJ art – how to read a room, make programming mistakes and how to recover from them. It's the advice I give to people when they want to how or where to start DJing – even if you are playing for five people in a coffee shop you are still gaining experience, reading the mood of those who are there. All of that builds up and prepares you for if and when you break with your productions.

The pleasure for me now is that the solo sets have become such cherished events for the fans, to the point that people are prepared to get on planes and travel thousands of miles to certain cities, to be part of the occasion.

Looking out during those particular nights, where you start thinking to yourself "I know you from New York, I know you from Amsterdam, I know you from Sydney, and you are all here in Los Angeles", it's a special feeling. Very special.
What are your thoughts on the Dakota project, and what makes it unique and different from the Markus Schulz sound?
The Dakota name comes from the street I lived on when I resided in Arizona. And originally, it was for making darker, clubbier tracks for labels such as Bedrock and Yoshitoshi, while I was still trying to figure out what the Markus Schulz sound needed to be.

If I was to describe the difference between the two today – the Markus Schulz sound for me is about my relationship with the fans, my experiences around the world and what I see. But the Dakota sound comes deeper from within; it's much more introverted.

I had been keeping the Dakota project bubbling underneath the surface in recent years, with maybe one single released to the public a year, and a couple more untitled tracks I would make exclusively for my livesets. However, the various tragedies going on in the world, along with all the other nonsense in 2016, made me sit and reflect deeply a lot more. The attacks in Paris were the instigator, but the tipping point was the mass shooting at Pulse nightclub in Orlando; somewhere close to come, that shook me to my core. It was at that point where I needed to reach down deep inside of me, painstakingly at times, and try to represent something I felt that needed to be expressed. When reading the news about the school shooting last week, I still cannot wrap my head around why these things happen.

I deliberately went quiet on social media for a while, and started reading a lot. In Reki, the message is that we all find ourselves on a journey in life towards enlightenment; but in order to get there, you must undertake various steps.

This is where The Nine Skies was born, so I undertook the challenge of designing a full-on audiovisual presentation; the first time I have ever done anything of this nature in my career.

The preparation lasted around a year, and continued to evolve with new tracks after the premier edition at Dreamstate in San Francisco. After the live show was created, the next challenge was to take the music that made up the live presentation, and turn it into album.

The result was The Nine Skies album, consisting of 18 tracks. It is something that is very personal to me, and one I genuinely hope everyone out there will take time to listen and appreciate, and thank those who have. Even two months on after the release, I still think it is one of those albums that many people don't fully understand the journey after only one or even two listens, but eventually I hope that the path laid out towards enlightenment will become clear for everyone who embraces it.
Do you have any new EPs, albums, releases coming out soon?
The Dakota album The Nine Skies was released digitally before Christmas, just so people could have the opportunity to get it prior to the holidays. But now there is a limited edition box set coming, which features the album on CD, a bluray of the live performance at Transmission in Prague and The Nine Skies visuals, tarot cards with the artwork of each individual sky and more. It's available at finenight.com and hopefully to everyone who enjoyed The Nine Skies, it will be something worthwhile to have in your collection.

But shortly after that, I am moving on to the next project, and without giving too much away at the moment, it will be based around the upcoming Global DJ Broadcast In Bloom radio show that you will be hearing in April. If you have been following me closely on social media, it is fairly easy to conclude that after so many years of never doing it, I'm finally going to be collaborating on a song with the wonderful Emma Hewitt.

More to come on that soon, but I have a feeling the people going to Foundation on Thursday might be in for a sneak peek!
How do you keep GDJB fresh and interesting after so many episodes?
I am hugely proud of the radio show, because of how much it still means to people.

There is so much competition out there in the market for the attention of people to listen to dance music radio shows, so for people to show tremendous affection about the music, the programming and the journey of Global DJ Broadcast does mean a lot. To me, along with the productions, the radio show is the best way to reach out and give back to your fans on a regular basis.

The regular shows are like a weekly magazine – a representation of the latest tunes I am enjoying, as well as helping promote the artists I feel that will make a great impact in trance's future, through tracks on Coldharbour and their DJ sets through SMG.

The monthly World Tours are a fun souvenir for fans who attend that particular gig, and the shows people really cherish form the Global DJ Broadcast Four Seasons series – comprising of the Classics Showcase, the all-vocal trance mix In Bloom, the Sunrise Set for the summer, and Afterdark for the rabbithole and Halloween.

I have worked really hard with those themed shows, because I want those to be really special collectors' edition sets for the fans to keep forever. Hopefully everyone who listens to them will feel the heart and soul being poured into the journey.
What inspired you to DJ?
When I was young growing up in Germany, my childhood wasn't the greatest. My step-father was in the military, so it meant that every few months we would be moving around various army bases in Germany, meaning that any friendships you had developed soon evaporated.

But the one thing that saved me from the loneliness was the radio, and very quickly after discovering it, I fell in love with music. I would put my headphones on and get lost in the sounds, especially at night. I still think today that radio is such a beautiful and powerful broadcast medium.

When my family immigrated to the United States when I was 13 years old, I couldn't speak a word of English. So moving there proved to be such a culture shock, and again, I really struggled to fit in to society. Thankfully, the radio was always there for me, and when it was cloudy, I was able to pick up nearby college stations, that would be playing dance music in the evenings. This is where my fascination grew further, because now I wanted to study the music and learn the layers involved in the composition of a song.

In school, I fell in with all the other outcasts, and our bond was the love of breakdancing and breakdance music. We would make mixtapes and trade them with each other, and this movement would grow bigger and bigger. It reached a point where we had to organise a party, so we rented a hotel venue to stage it.

The idea was that each of us would take turns on the decks throughout the evening; but when the moment came, everyone got cold feet, and I wound up DJing the entire night.

It was a moment of elation, and I knew there and then that being a DJ was exactly the purpose in which I was put on this earth. Nothing else was a career choice. Luckily on that night, the owner of the hotel was watching on and must have been impressed with what he saw, so he offered me a job. And the rest is history.
Do you feel that relocating to Europe from the US contributed to your success and / or creativity?
It was pivotal to my career, that two year period living in London around the turn of the millennium; residing on Coldharbour Lane in Brixton.

At that time, I had completed seven years as a resident of The Works nightclub in Arizona, but it closed, got demolished and was turned into a parking lot. There was a lot of frustration building up inside me, mainly because I wanted to succeed beyond the Arizona borders, and not really being able to feel the pulse of what was going on in the scene worldwide.

I regard London as the beginning of my career, and everything up to that point as learning. I lived in a studio on Coldharbour Lane, and from my room you could hear as much as six other studios going simultaneously – the melodies of trance, the grooves of house and the basslines of drum n' bass. It all swirled around in my head and inspired me to create. It was also then where the mantra of realising that in order for my career to take off, I needed to make music that I could play in my own sets; because if that happened, other people would play it in their sets as well.
What's your favorite progressive trance track?
It would have to be the original version of Perception by Cass & Slide. It reminds me so much of my time living in London, going to see the big international DJs perform at places like Turnmills, Fabric and Ministry of Sound. I can remember it being a staple in the sets of guys like Sasha, John Digweed and Paul Oakenfold, and just being marvelled by its sound and journey when I would hear it live.

When the vocals by Naimee Coleman were added around a year later, it was the icing on the cake. That one track I wish I could have made myself. And of course I was very fortunate to be able to do a remake of Perception, and have an amazing vocalist in the form of Justine Suissa to make it even more special.

Rise up together, the slogan to live by.
What is your favorite thing (hobby) to do other than produce and perform for crowds?
My biggest passion outside of music is sports, both playing and watching. My favorite sport would be basketball, and I follow the NBA team the Miami Heat, either through television at home or through NBA League Pass when I am overseas. I enjoy playing as part of my workout routine, because it's great in building up cardio, which is particularly essential for the solo sets!

For around the first decade I was touring internationally, I never really had the opportunity to immerse myself in different cities and cultures as much as I wanted to. It was too often a case of airport -> hotel -> club -> hotel -> airport.

As I have gotten more experienced with locations around the world, what I have sometimes tried to do is come in to a city a couple of days early; making use of the opportunity to relax and explore, towards broadening the mind. Bali has become a particular favorite of mine in the past few years.
Don't miss Markus playing an open to close set this Thursday at Foundation Nightclub! Tickets are still available (use promo code "headbangers" for discounted tickets)!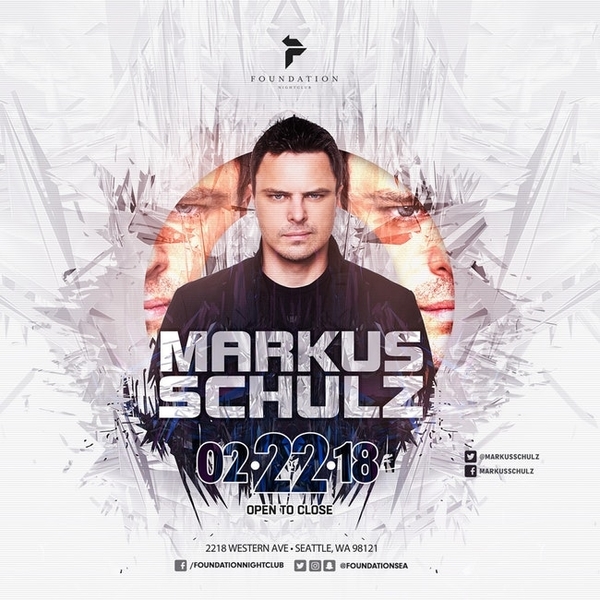 Stay up to date on upcoming EDM events in the Seattle area by following the EmeraldCityEDM Event Calendar, and enter to win free tickets to local EDM shows on the EmeraldCityEDM Contests & Giveaways page.
Sign up for our email update list to emailed about new releases from local producers, show announcements, Seattle area EDM news & free show tickets: