A 22 year old Portland man and a 22 year old Canadian man passed away after attending Paradiso 2015. The cause of death has not yet been released in either case, but multiple news outlets are reporting that a combination of heat and drug use may have played a factor. Both of the deceased were found unresponsive at the event then later passed away at regional hospitals. 53 patients were treated in Quincy this year, with 8 being transported to Seattle. 10 people were arrested.
2015's Paradiso death brings the total deaths of attendees at events put on by USC Events to two three this year so far, one of which occurred at Life in Color Seatac 2015. With Freaknight being shut down early last year, we wonder what USC Events has in store for the future…
Live Nation, the co-owner of USC Events, and USC Events released the following official statement via Facebook on 6/30/2015: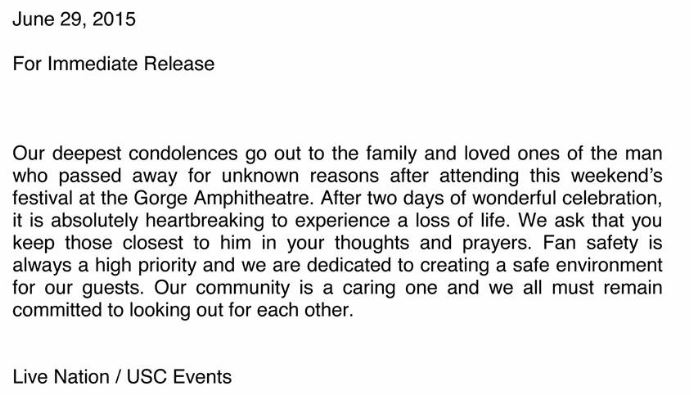 Live Nation appears to be taking a tough stance against drug use at their events. Live Nation formerly allowed harm reduction efforts such as DanceSafe and the BunkPolice to assist with drug testing on site at events, however this year at Bonnaroo Live Nation banned such services – YourEDM reports: "Bonnaroo Shuts Down The Bunk Police and Confiscates Hundreds of Drug Kits". Additionally, DanceSafe was recently removed from Electric Forest. Note that one person died this year after attending EDC Las Vegas, which also experienced record high temperatures.
Our condolences go out to the friends and family of the deceased. No event or drug is worth losing a life for. We would like to reiterate our stance on harm reduction at events and drug testing: Harm reduction services at events can save lives and test your drugs: PMMA/PMA is making the rounds again and also in the Pacific North West there have been multiple reports of methamphetamine or other stimulants being sold as Ecstasy. No life is worth risking over questionable drugs, and no life lost is worth a reduction to legal liability by the event promoters/producers. Lightning in a Bottle (the DoLab) in California has successfully integrated harm reduction services at their events in a way that is beneficial for all.
If you disagree with the way that Live Nation/USC Events or other large EDM event companies have been approaching harm reduction at their events, sign this online petition today: Amend the RAVE Act.
The Spokesman Review reports: "Paradiso music fest fan dies in hospital":
The Paradiso electronic music festival in Central Washington turned deadly for one young man and sent dozens more to area hospitals for heat- and drug-related illnesses, officials said. A 22-year-old Portland, Oregon, man died Sunday morning after attending Paradiso at the Gorge Amphitheater in Central Washington. Beau B. Brooks died at Confluence Health-Central Washington Hospital in Wenatchee.

A cause of death has not been released, but it may be related to drug use or the heat, said Kyle Foreman, spokesman for the Grant County Sheriff's Office. Saturday's high in nearby Quincy was 105 degrees.

The sheriff's office is investigating the death, which comes two years after a 21-year-old Washington State University student died at Paradiso from dehydration caused by the heat and methamphetamine intoxication. "I want the victim's family to know how sorry I am for their loss, and to know that I have committed a major crimes detective to investigate and find out what happened," Grant County Sheriff Tom Jones said. Many more of the festival's young fans took ill and were treated at the concert venue or rushed to hospitals in Quincy, Wenatchee and Seattle.

Quincy Valley Medical Center treated 53 patients from Paradiso over the weekend. That's slightly more than last year, said Alicia Shields, the chief nursing officer. "The combination of high heat and multi-substance abuse resulted in a significant number of life-threatening conditions," Shields said. Eight patients were admitted to the hospital for further evaluation and treatment, and eight were transferred to Confluence Health or Harborview Medical Center in Seattle. Crowd Rx, the company that the Gorge contracted with to provide on-site medical services, treated more stable patients so Quincy Valley medical staff could focus on critically ill patients, Shields said.

Festival promoter Live Nation Entertainment did not respond to requests for comment today. The two-day music festival drew 27,500 fans to the outdoor concert venue near George, Washington. The sheriff's office said it had 74 calls for service related to Paradiso and booked 10 people into jail. Crimes included assaults, drug possession, theft, attempting to elude, trespassing, vehicle prowl, and hit and run. Starting last year, more water stations were added for the two-day concert, and the event promoter began contracting with AMR to have medical personnel and ambulances at the venue.

Update: KPTV Portland reports that the deceased separated from friends and disappeared into the crowd. He was discovered unresponsive several hours later with his internal body temperature reaching 110 degrees.

Second Death – the Spokesman Review reports: "2nd Paradiso festival-goer dies in hospital":
A second man has died after becoming ill at the Paradiso Music Festival in Central Washington, the British Columbia Coroners Service confirmed Monday. Vivek Pandher died Saturday in Vancouver General Hospital in British Columbia. The 22-year-old was one of dozens who were rushed to emergency rooms after attending the festival last week at the Gorge Amphitheatre.

Barb McLintock, a spokeswoman for the Coroners Service, said Pandher was found unresponsive at the festival. He was initially treated at Quincy Valley Medical Center, then transferred to Confluence Health in Wenatchee, said Kyle Foreman, a spokesman for the Grant County Sheriff's Office. The cause of Pandher's death has not been determined. Many who were treated after attending the festival suffered drug intoxication or heat exhaustion.