Journey back home on June 15th & 16th, 2018 to the Gorge Amphitheater for Paradiso 2018! Tickets are on sale now!
As our ever expanding technological world evolves the way we interact and communicate with each other, the sense of intimate connections sometimes seems distant. For this reason it is paramount that we take time to live in moments of wanderlust and adventure. Each year we come together on a pilgrimage to find a balance between a modern digital world and the natural environment surrounding us.

We welcome you to gather your family and journey back home on June 15th & 16th 2018 to the breathtaking Gorge Amphitheatre for the seventh year of Paradiso Festival!

Be immersed in a land where modern technology and nature's purity seamlessly blend together. Experience three stages with world class visuals & audio production, thrilling rides & attractions, some of the biggest names in dance music, a stunning natural backdrop you have to see to believe, and the best part of all, the Paradiso family.

Once again the time has come for the Pacific Northwest to shine at the center of the dance music world. Join us where digital meets nature.

See you in paradise!
Special guest at Paradiso will be Sven (aka Seven Lions' psytrance project)! Catch him B2B with Dimibo at the Digital Oasis stage on Friday at 9:15pm. See the full schedule & set times on the official Paradiso app.
Links & More Information:
Purchase presale tickets online
Facebook event page
The Gorge Ampitheatre
754 Silica Road NW
George, WA 98848
June 15th & 16th, 2018
2:00PM-1:30AM
18+
Enter to win a pair of tickets:


Payment Plan Details: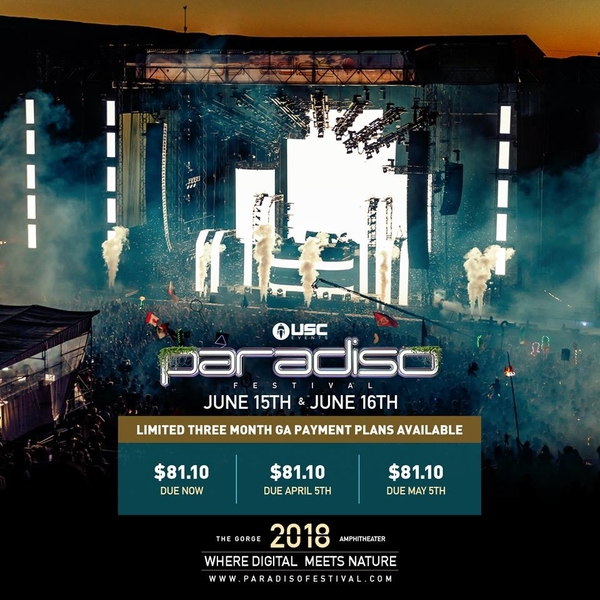 Hard Copy Ticket Details: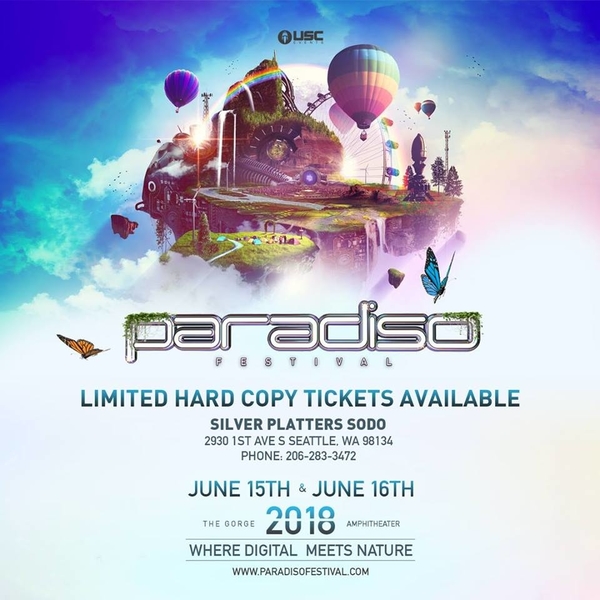 Stay up to date on upcoming EDM events in the Seattle area by following the EmeraldCityEDM Event Calendar, and enter to win free tickets to local EDM shows on the EmeraldCityEDM Contests & Giveaways page.
Sign up for our email update list to emailed about new releases from local producers, show announcements, Seattle area EDM news & free show tickets: