USC Events presents Seven Lions: Chronicles Chapter I at the Wamu Theater on Saturday, May 12th, 2018 with Kill The Noise, Liquid Soul & Jason Ross!
Seven Lions has announced the debut of his new event series, entitled 'Chronicles,' of which the first installment will take place on May 12 at Seattle's WaMu Theater. 'Chronicles' is a concept born out of the world of Seven Lions – a mysterious place that's existence has been foreshadowed throughout the fabric of the project. Now, with Chronicles, it all comes together in a live spectacle that will usher in an expansion of the world of Seven Lions.
Curating a line-up that delves into all corners of his influences and tastes – with acts from the worlds of trance, bass music and psy respectively – Chronicles will also see Seven Lions play two contrasting sets to book-end the event's musical journey. Opening up the room with a special 'Observatory' set, Seven Lions will explore his deeper and more experimental side as with his recently launched mix series, whilst his headline closing set will provide the classic peak-time Seven Lions experience that he has imported to festival stages, clubs and theatre halls across the globe.
Stoked to announce the first chapter of my new event series – Chronicles. I'll be inviting some of my favorite acts to join me at the WaMu Theater in Seattle on May 12. Me and my team are working hard on lots of extra touches to make this one special. It's awesome for me to be able to kick this series off in Seattle. The community here has always been really supportive and welcoming to us. -Seven Lions
Links & More Information:
Purchase presale tickets online (purchase tickets in person at the Centurylink Field box office to save $ on fees)
RSVP on Facebook
18+
6pm-12am
Wamu Theater
800 Occidental Ave South
Seattle, Washington 98134
Set times: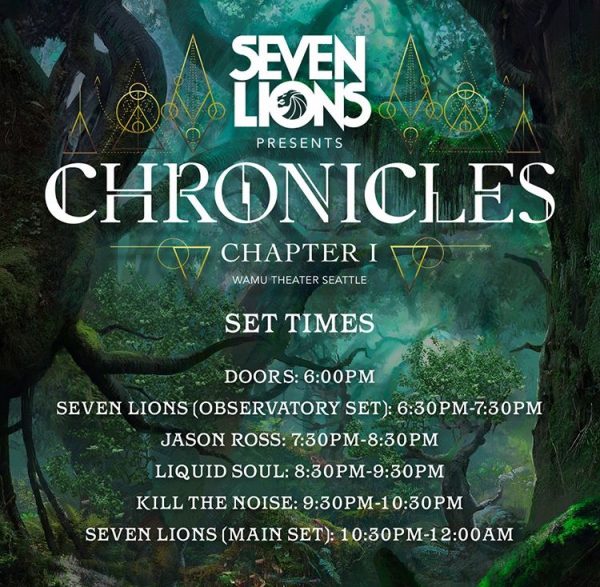 Stay up to date on upcoming EDM events in the Seattle area by following the EmeraldCityEDM Event Calendar, and enter to win free tickets to local EDM shows on the EmeraldCityEDM Contests & Giveaways page.
Sign up for our email update list to emailed about new releases from local producers, show announcements, Seattle area EDM news & free show tickets: