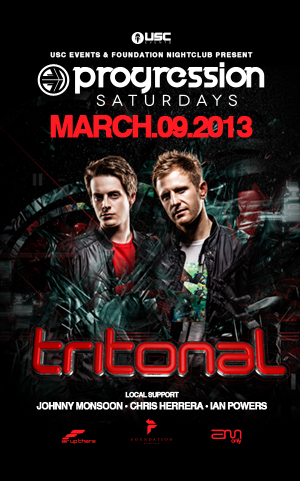 Update:   Announced by Foundation Nightclub via Facebook:   "Tickets for Progression Saturdays with Tritonal are now sold out! There will be no tickets available at the door. Thank you everyone!"
Giveaway:  Contest ends today at noon!  EmeraldCityEDM is excited to offer you the chance to win two tickets to Tritonal at Foundation Nightclub!   Enter the giveaway here, you must be age 21 or older and "like" EmeraldCityEDM.com on Facebook to enter, good luck!   A winner will be announced on March 7th.
Event information:   Tritonal will return to Foundation Nightclub on Saturday, March 9th for an encore performance!  Per Foundation: "After their first sold-out show at Foundation Nightclub back in October, the duo is headed back for a special encore performance for Progression Saturdays".
Local support will be provided by the fabulous Johnny Monsoon, along with Chris Herrera and Ian Powers.  Check out the latest from Seattle local Johnny Monsoon on EmeraldCityEDM's recent feature of his new track "Winter"!
Links:
Purchase presale tickets online Sold Out
WIN TICKETS from EmeraldCityEDM.com
RSVP on Facebook
Stay up to date on upcoming public electronic dance music events in the Seattle area by following the EmeraldCityEDM Events Calendar.