New music released today from local producer ShermGerm! Digital Forest is available now on Shadowtrix Music, an independent, underground, bass music record label based out of Los Angeles.
ShermGerm, aka Brad from Vashon Island, has DJd with Tom Kha Productions, Muu Crew, Dome Vizion, & Future Perfect Events.
This album is the product of 6 months of sound design and digging for that perfect vibe. I really tried to capture the vibes of the forest in this project. I had been listening to lots of MRK1, Sayer, Eprom, and Panty Raid for inspiration. I have been following Shadowtrix Music for sometime and gotta say a lot of inspiration has come from music they release. I feel honored to be releasing my new album through them.

If you want to discover new sounds you gotta break the rules and get weird with it!
Catch ShermGerm playing this Thursday at the Underground in Seattle with Sudz, Subduktion (Anomaly Music Collective artist) & Mike.iLL, Thursday December 1st!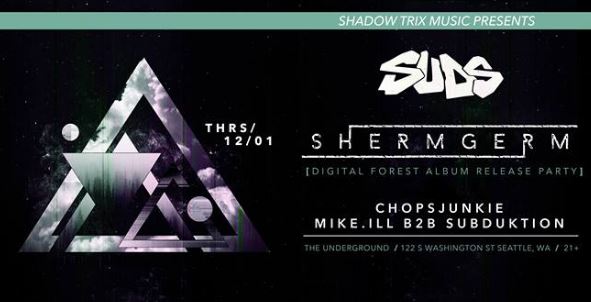 Stay up to date on upcoming EDM events in the Seattle area by following the EmeraldCityEDM Event Calendar, and enter to win free tickets to local EDM shows on the EmeraldCityEDM Contests & Giveaways page.
Sign up for our email update list to emailed about new releases from local producers, show announcements, Seattle area EDM news & free show tickets: