Just announced:  Skrillex to headline Bumbershoot 2012 (Monday)!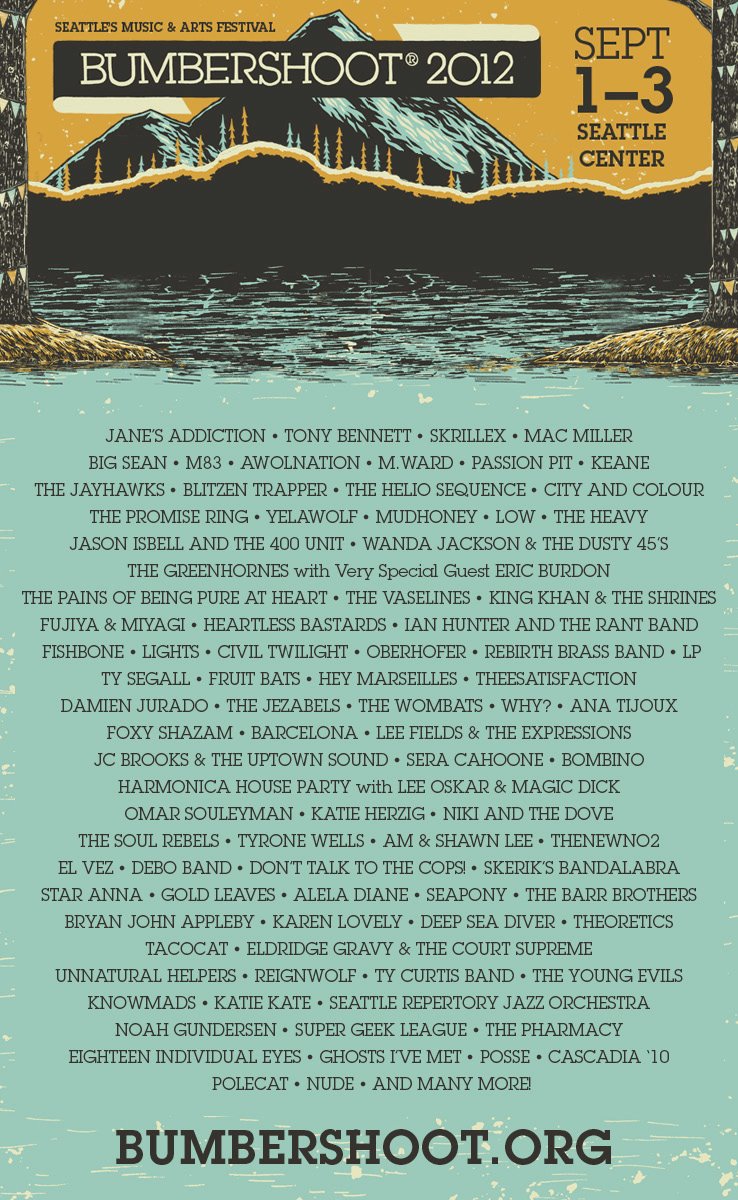 The Bumbershoot website is currently crashing under high traffic as of the writing of this post, but you can read about the lineup on the Stranger's Lineout article here, and purchase discounted presale tickets via Strangertickets.com here.  One discounted ticket for monday evening only will cost you 45$. 
Key excerpts from the 5/8/2012 press release:
Saturday, 9/1
Jane's Addiction, AWOLNATION M. Ward, The Jayhawks, The Helio Sequence, City and Colour, The Heavy, Jason Isbell and the 400 Unit, King Khan & The Shrines, Heartless Bastards, Oberhofer, Thee Satisfaction, Damien Jurado, JC Brooks and the Uptown Sound, Sera Cahoone, The Soul Rebels, Don't Talk to the Cops!, Skerik's Bandalabra, Alela Diane, The Barr Brothers, TacocaT, Unnatural Helpers, Seattle Repertory Jazz Orchestra, Polecat, Nude
 
Sunday, 9/2
Tony Bennett, Mac Miller, Big Sean, Keane, Blitzen Trapper, The Promise Ring, Yelawolf, Mudhoney, Wanda Jackson & The Dusty 45s, The Greenhornes with Very Special Guest Eric Burdon, Ian Hunter and the Rant Band, Civil Twilight, Fruit Bats, The Jezabels, Why?, Barcelona, Lee Fields & The Expressions, Harmonica House Party with Lee Oskar & Magic Dick, Katie Herzig, Niki and the Dove, AM & Shawn Lee, thenewno2, Gold Leaves, Karen Lovely, Deep Sea Diver, Theoretics, Eldridge Gravy & The Court Supreme, Ty Curtis Band, The Young Evils, Knowmads, Katie Kate, Eighteen Individual Eyes
 
Monday, 9/3
Skrillex, M83, Passion Pit, Low, The Pains of Being Pure at Heart, The Vaselines, Fujiya & Miyagi, Fishbone, Lights, Rebirth Brass Band, LP, Ty Segall, Hey Marseilles, The Wombats, Ana Tijoux, Foxy Shazam, Bombino, Omar Souleyman, Tyrone Wells, El Vez, Debo Band, Star Anna, Seapony, Bryan John Appleby, Reignwolf, Noah Gundersen, Super Geek League, The Pharmacy, Ghosts I've Met, Posse, Cascadia '10
Bumbershoot After Dark will run Saturday and Sunday nights from 9:30 PM to 2 AM. Curated by Decibel Festival founder Sean Horton, Bumbershoot After Dark will feature some of electronic music's most exciting national and regional talent, to be announced in the coming weeks. All single-day and 3-day ticket-holders gain access to Bumbershoot After Dark, at no additional charge.