Deadmau5 returns to Seattle for a headlining show at the WaMu Theater on Saturday, April 22nd with a SECOND SHOW ADDED on Friday, April 21st!
Just announced: Feed Me will be opening support for both Seattle shows!
The deadmau5 live experience has long been one of the most invigorating in music, taking listeners on a complete journey that melds his signature sound with a state-of-the-art live show. He will be taking his new album W:/2016ALBUM/ on the "LOTS OF SHOWS IN A ROW TOUR" in 2017 with a new live show and an even bigger cube. The show will consist of new music from W:/2016ALBUM/, a myriad of original deadmau5 compositions ranging from atmospheric to techno to old-school synths with NME calling it, "a judicious side-step away from the plasticky insta-rush of EDM, it finds Zimmerman rebuilding his sound around the huge collection of classic and rare synths he's lovingly assembled in his new studio."
deadmau5′ new stage show, a kinetic version of his previous cube with many enhancements, recently made its debut last night via "Live In Rehearsals," where he gave a livestream performance on his YouTube channel of songs from W:/2016ALBUM/ and unveiled his updated, custom-built Cube 2.1, giving not only a sneak peek of his new music, but also the opportunity to explore the famed cube that is central to his upcoming live performances. Standing at 15 ft. tall and 16 ft. wide, making it larger than its predecessors, Cube 2.1 features internal robots that push the sides of the cube, consisting of state-of-the-art LED panels, up and around while projecting brand new graphics.
On deadmau5's YouTube channel in the coming weeks, experience exclusive content including the livestream performance, 360-degree and standard format performance videos of the lead single "Let Go (feat. Grabbitz)," and behind the scenes videos of his iconic LED cube for his upcoming tour. Subscribe to deadmau5's YouTube channel to get all the latest videos.
Links:
Facebook event page (Saturday)
Facebook event page (Friday)
Purchase Saturday tickets (sold out)
Purchase Friday tickets
WaMu Theater
800 Occidental Ave South
Seattle, WA 98134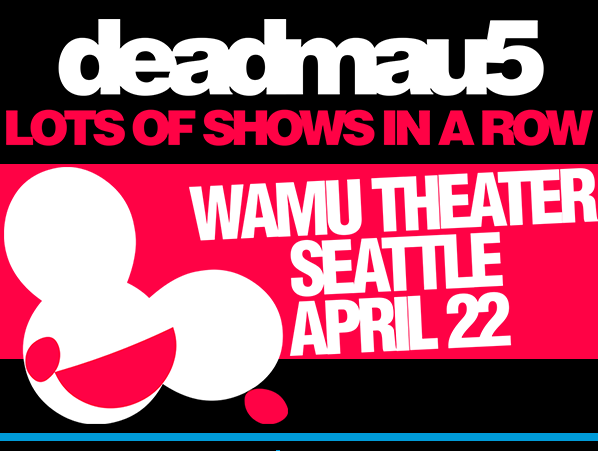 Stay up to date on upcoming EDM events in the Seattle area by following the EmeraldCityEDM Event Calendar, and enter to win free tickets to local EDM shows on the EmeraldCityEDM Contests & Giveaways page.
Sign up for our email update list to emailed about new releases from local producers, show announcements, Seattle area EDM news & free show tickets.