Links:
Purchase presale tickets online
Facebook event page
luckyfestival.com
Schedule: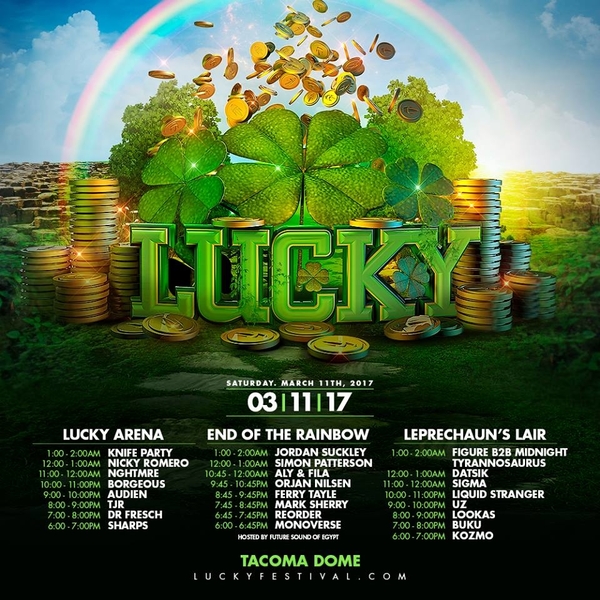 Full Lineup:
ALY & FILA
AUDIEN
BORGEOUS
BUKU
DATSIK
DR FRESCH
FERRY TALE
FIGURE b2b MIDNIGHT TYRANNOSAURUS
JORDAN SUCKLEY
LIQUID STRANGER
LOOKAS
MARK SHERRY
MONOVERSE
NGHTMRE
Nicky Romero
KNIFE PARTY
ORJAN NILSEN
REORDER
SIGMA
SIMON PATTERSON
TJR
UZ
USC Events presents Lucky 2017 at the Tacoma Dome on Saturday, March 11th:
Spring is the time to welcome new beginnings and to breathe new life and luck into the world around us. It's a time of renewal, rebirth and regrowth. There's no better place to celebrate the arrival of springtime than in the Evergreen State! We invite you all to gather on March 11, 2017 as we enter our Celtic-inspired land of whimsical creatures and boundless good fortune. With a little luck of the Irish and the leprechaun's blessing, we set off to witness the sounds of mystical musicians from far and wide. The time has come to descend into the gleeful realm of green and gold – at the end of the rainbow lies the world of: Lucky!
Retail Ticket Outlets: A limited number of retail outlet locations are selling hard copy tickets for $72 cash, but most locations are already sold out. Call ahead to confirm that the outlet is not sold out, and find the full listing of retail outlets here.
6pm – 1:30am
18+ with bar areas for 21+
Tacoma Dome
2727 E D Street
Tacoma, WA 98421
Packages including tickets & transportation, or all three (travel, tickets and hotel), are available NOW from Unity Travel!

Enter to win a pair of tickets to this show:
Stay up to date on upcoming EDM events in the Seattle area by following the EmeraldCityEDM Event Calendar, and enter to win free tickets to local EDM shows on the EmeraldCityEDM Contests & Giveaways page.
Sign up for our email update list to emailed about new releases from local producers, show announcements, Seattle area EDM news & free show tickets.