Today's featured music is the latest single from Los Angeles producer and Destructo: "Bassface." The sinister electronic banger is the first new single to follow the G-House aficionado's Renegade EP earlier this year. The instrumental track – which features a driving, low-end bass line and the energetic grooves that he's become known for – is sure to fall in line as a dance floor favorite like popular Destructo classics "Technology" and "Higher."
Check out the music video below, as well as information about the Lets Be Friends tour coming to Foundation Nightclub this March, and stream/purchase Bassface on all platforms here!
Upcoming show at Foundation Nightclub:
USC Events & Foundation Nightclub present Resonate Fridays: Destructo with Walker & Royce and Dillon Nathaniel as part of the Let's Be Friends Tour on Friday, March 2nd 2018!
Links:
Purchase presale tickets online (Use promo code "headbangers" for discounted tickets!)
RSVP on Facebook
21+
10pm-2am
Foundation Nightclub
2218 Western Ave
Seattle, WA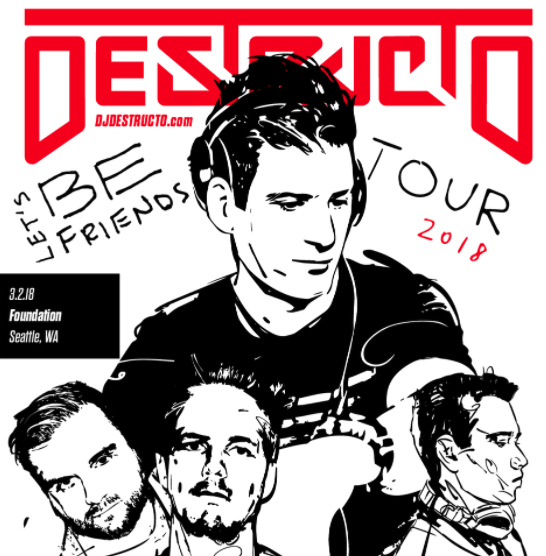 Stay up to date on upcoming EDM events in the Seattle area by following the EmeraldCityEDM Event Calendar, and enter to win free tickets to local EDM shows on the EmeraldCityEDM Contests & Giveaways page.
Sign up for our email update list to emailed about new releases from local producers, show announcements, Seattle area EDM news & free show tickets: