The inaugural Upstream Music Fest + Summit closed last weekend with strong attendance and 390+ live shows! Founded by philanthropist and Microsoft co-founder Paul G. Allen and inspired by his love of live music, Upstream Music Festival + Summit was conceived to celebrate the sound of the region and provide the industry with an experience that fosters and supports Northwest artists at every level of their career. No single genre or style defined the Northwest and Upstream's final lineup which featured a diverse mix of rock, hip-hop, electronic, pop, R&B, soul, jazz, folk and more.
The first year event drew more than 30,000 attendees throughout the weekend, with an estimated 5,000 more people who attended the free shows programmed by KEXP in Occidental Park and engaged with the seven art installations throughout the festival footprint. Art installation "Liminal Passage" was a hit with consistent lines of people waiting to experience the piece.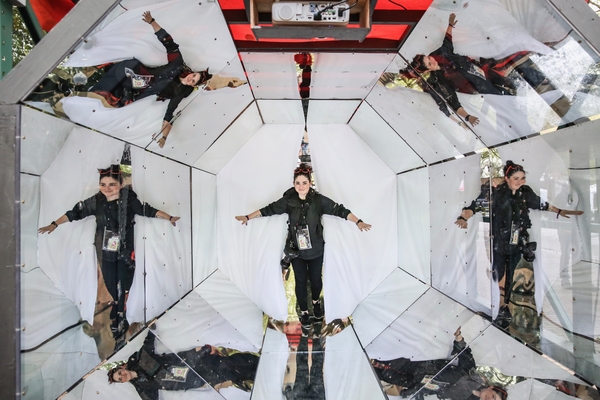 It has always been our mission to create a festival that would shine a light on the amazing sound of the Pacific Northwest. We couldn't be happier that the first year of Upstream brought together so many members of the music community and music lovers from around the region, … We want to thank all of our artists, speakers and sponsors for their incredible support and participation this inaugural year, and we look forward to the future. -Jeff Vetting, executive director
The experience of walking through Pioneer Square over the last three days, hearing so many of the region's most promising bands and seeing attendees discover new talent has been surreal, … This is what the music scene in the Northwest is all about—discovering new music and people collaborating across genres and styles. – Meli Darby, Upstream curator
Through close collaboration between the neighborhood and Upstream, the residents and businesses successfully welcomed more than 30,000 visitors to Pioneer Square, … We were honored to give event attendees a sense of what makes our neighborhood and its thriving creative spirit so exceptional. -Karen True of the Alliance for Pioneer Square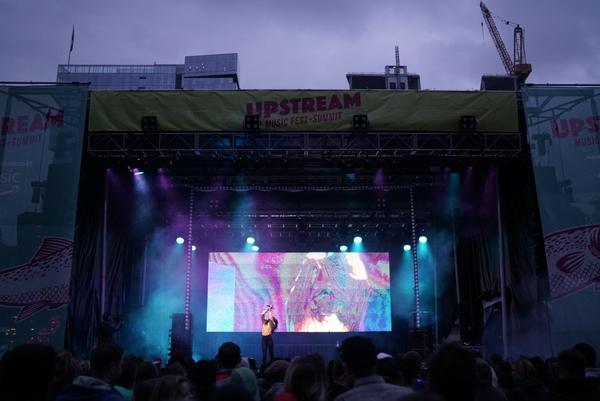 EmeraldCityEDM attended the event and we were very impressed by the AlunaGeorge show. She sang all of her major hits produced with Bauer, Disclosure and more; and was just as amazing live as in the studio. The main stage was positioned at an angle where you could see Seattle behind it, which was a thoughtful touch. Many of the electronic acts that were playing at venues other than the main stage reached capacity quickly, so we spent time checking out bands that we otherwise normally wouldn't have experienced. We loved the Smith Tower venue, which was a very unique experience – what other festival has events in an iconic skyscraper on the top of the city?!?!?! Great job to everyone involved and thank you for inviting us and putting on the event ♥
Pros:
– Diversity and feel from the crowd was reminiscent of the way the Capitol Hill Block Party used to feel due to focus on regional artists
– With 25 stages it exposed the attendees to multiple venues they may have never ventured into before the festival
– Since not every venue participated in the festival it allowed for attendees and non-attendees to mix together and discuss the events of the day making it feel like a festival for the kids community and not of exclusivity
– Dinosaur Jr and Shabazz Palaces were also major highlights of the main stage
– Open gates leading into the neighborhood prevented festival surge pricing of food and amenities and allowed attendees to sample local food selections
Cons:
– The app was terrible. Crashed all the time, map was impossible to use to find venues/stages, UI was not thought out for sorting options, no one knew what the salmon meter meant
– Many stages were "at capacity" despite being less than half full due to outdated fire codes resulting in many people not being able to see acts they wanted to see
– "Chinese menu syndrome"; too many stages with too many acts at one given time feeling like it diluted the attendance for performers deserving of a larger audience
– Some venues were so tucked away it was almost impossible to find for those unfamiliar with the neighborhood
– Clear bag policy and locker rental fees feel forced on the public to extort more money from them for an all day festival (ie. Who had a phone that could go the full festival without dying?)
– Lack of consistency and communication between venues in terms of policies for press, artists, VIP, etc
– Smith Tower actually kinda sucked on Saturday with lack of ventilation and an all-bro atmosphere clogging everything up. DJ Sosa kept having the music cut out during his set as well
– Didn't feel like there was enough for all ages to make the price of admission worth it for those ticket goers
– Heard from those buying day of, process for purchasing a wristband and then registering the wristband (especially in multiples) was extremely cumbersome with the stations and not allowing the same name/email address to check out for more than once (ie. Needed individual names per wristband)
Overall, the festival has a lot of potential but hit a lot of roadblocks this year. In particular, having the Summit start at 9am and only going until 3pm only on Thursday and Friday seemed like a terrible idea in terms of getting the public involved with the arts of the city. No excuse for not having panels going on at the same time as shows throughout the festival like Bumbershoot used to. Regardless, it was a great showcase for local talent with too much going on at any given time. Would benefit from less venues, better communication of policies with venues for the consistency, an increase in all Ages showcases, a better map/app, a greater focus on bringing street performances and performers outside venues into the parks, Summits that occur all weekend, better capacity rules, and a better integrated system for the app to work with the capacity notifications. -Joel
Beat Connection from the main stage: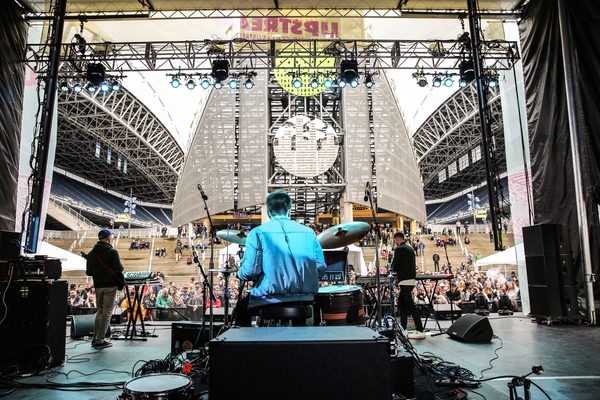 Flying Lotus and the Amazon "Pyramid" beer garden: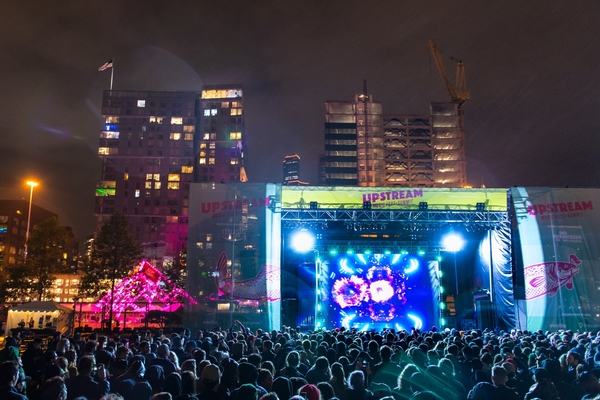 Hope to see you again next year Upstream!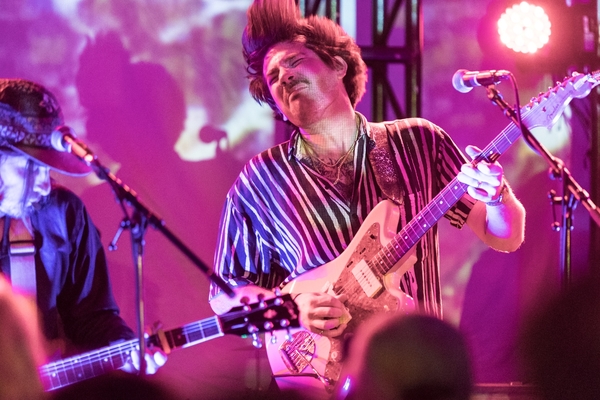 Stay up to date on upcoming EDM events in the Seattle area by following the EmeraldCityEDM Event Calendar, and enter to win free tickets to local EDM shows on the EmeraldCityEDM Contests & Giveaways page.
Sign up for our email update list to emailed about new releases from local producers, show announcements, Seattle area EDM news & free show tickets: