We interviewed up and coming bass artists YOOKiE, or brothers Anthony and Chris Alfaro ahead of their appearance at Life in Color Seattle and asked them what they thought of Seattle and their last show at Foundation Nightclub, what's next, and what we can expect at LIC!
Where did the name YOOKiE come from and what does it mean?
C: Our friend from high school makes up all these random noises and screams, YOOKiE was one of the noises that he screamed. It sounds like YOOOOOOKKIIEEEEEEEEEE. It is pronounced like COOKiE but with a Y instead of a C. Y-O-O-K-i-E
Where are you from?
A: ISLIP NY it's on Long Island, its a pretty nice little area, it's a small town, but we even have our own airport.
How and when did you get started making bass music?
C: We went to our first show in 2012 at the Roseland Ballroom to see Flux & Cookie Monsta play and it was just like the craziest thing ever. We fell in love with the vibe. So we started going to more shows. We went and saw Skrillex for the first time at Bamboozle Festival. We literally only went to the festival to see Skrillex. So we started going to see more shows, more festivals, we ended up going to our first camping festival, Camp Bisco, we saw Bassnectar and Skrillex there.
A: That was basically the spark that made us start making this style of music because we were into other styles, I was playing guitar, Chris was making hip hop beats and stuff like that. And we were like, 'we could literally do this if we wanted to' so we just started messing around in Fruity Loops (FL Studio) and now… here we are.
Did you have any other musical training or instruments you played prior to getting into DJ'ing?
A: Have always been into music and wanted to play music, so my mom got me a guitar one time for Christmas, and I just started playing it. Thought playing music was so fun. Eventually I started playing with other people and that was super fun.
C: Always loved hip hop and used to make rap beats, and used to rap over them. Our cousin put us on to Fruity Loops (FL Studio). We were always just messing around with that.
How is it working as brothers together? Is it equal contributions between the two of you or do you play off each other in different ways to create your sound?
A: Love it because me and Chris are on the same wavelength, so we just fuck with the same music. Sometimes i'll be lacking in one department and he'll come in and just fill in that whole area, so we have a pretty cool dynamic going on.
C: Yeah, I'd say that in areas that I lack, my brother makes up for, in areas that my brother lacks, I make up for, so together we just make a really good team.
One of your most well known tracks is a remix of Skrillex's "Scary Monsters and Nice Sprites" that was played during the Chainsmoker's and Carnage's sets at Ultra 2016. Who else do you draw inspiration from and who do you listen to when not performing?
A: Besides Skrillex, we love Kill The Noise, Snails. Definitely get inspired by The Chainsmokers a lot, a lot of other stuff like Blink 182, Jimi Hendrix, Tool, Primus, Red Hot Chili Peppers, it all depends on my mood what I'm into at the time.
C: I'm really inspired by the hip hop producer Metro Boomin', he's crazy.
A: Yeah anybody who Drake works with is fire. When I'm chillin' I'll listen to some 90s alternative stuff or I'll put like a 20s Swing playlist on. It really depends cause my mind just switches sometimes.
Tell us about your latest and upcoming releases? Have anything big in the works or that you just released?
A: We definitely have a bunch of stuff coming up soon. Just released on Brillz' record label Twonk Records. Recently finished up a track with Sullivan King that is ridiculous….stoked about that one. And the rest you'll have to follow us to find out about!
What label are you working with now? We see that you've released music on Dim Mak, Big Beat, Buygore, Mad Decent, Good Enuff, and Never Say Die Records – is there a label that's you r home label or favorite label to work with, and if so – why?
A: We've been fortunate enough to work with those labels along with Kannibalen. The ones [labels] that we really fuck with the most are the ones that are consistently pumping out quality music. We always pay attention to that stuff. We don't really have a home label, we're sorta just chillin for now but things seem to be getting kinda serious so we welcome the attention. It is a good validator for our progress as artists and musicians both in terms of our deep bass core following and new emerging sounds that reach a completely different group of enthusiasts.
C: It's been super dope to release with a lot of different labels, we're not specifically signed to one label. We like labels that release quality stuff, labels that are easy to work with, and the labels that are really into it for the music, not just trying to crank out tunes for the sake of it.
A: Our management has been introducing a bunch of different label opportunities, and we've had some really good experiences but ultimately we're moving in the direction to find a home that understands the diversity of what we create but also is true to our core.
What did you think about your Foundation Nightclub show last January?
A: Yeah that was a really really dope show. For a Wednesday, it was packed, everybody was going crazy,
C: I was really surprised that there was such a massive turnout on a Wednesday.
A: Yeah we got to showcase some dope new material and people responded really well.
What did you think of Seattle? Have you been here before? What do you like about Seattle?
A: I love that it's always raining in Seattle cause I love that type of weather, and also it's also home of the grunge scene, Jimi Hendrix was born there. It's been a place I've always wanted to visit, so I'm happy about that.
C: There was this one spot that we went to, it was a korean bbq and hawaiian fusion – it was so good – they had this like korean bbq beef cheesesteak thing that was soo good, and it was so fire.
A: Yeah we fuck with food heavy. I think we need to take our fans out to eat more often, what do you think Chris?
C: Yeah calling all fans, who wants to dine with us and show us the dope spots in your city?
Are you excited for LIC?!??!?! How many cities are you playing?
A: Yeah we're fucking stoked,
C: Not to mention this lineup is super crazy, I'm hype to see all the paint.
A: Its our first LIC, LIC has been a legendary party we've known about for a while but have never attended. So we're gonna throw down extra hard, hope everyone is ready.
How did you get signed with this year's LIC tour, was it something that you always wanted to do? Or how did the opportunity arise?
A: Definitely something we've always wanted to do. I guess the Universe answered our prayers.
We've noticed that at a lot of the larger events, different DJs play the same songs in their sets. How are you planning on making sure that you don't play the same songs as other DJs that night; we wish that DJs would start coordinating a bit more so we don't have to hear the same song repeatedly.
C: We always try and put a lot of unreleased material from us and our friends in our sets, so we're always trying to play stuff that people haven't heard before. But we also try and keep stuff in that people have heard before, cause people do respond very well to the bangers that they know, but we try to find a nice happy medium between stuff you may know and stuff you don't know.
Life in Color Seattle is happening May 20th at the Tacoma Dome, don't miss your chance to experience YOOKiE for yourself with 3LAU, RL Grime & What So Not: Purchase presale tickets online & RSVP on Facebook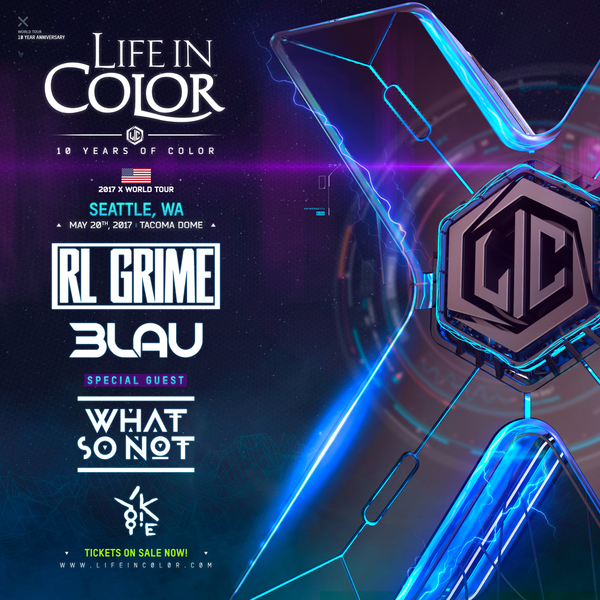 Stay up to date on upcoming EDM events in the Seattle area by following the EmeraldCityEDM Event Calendar, and enter to win free tickets to local EDM shows on the EmeraldCityEDM Contests & Giveaways page.
Sign up for our email update list to emailed about new releases from local producers, show announcements, Seattle area EDM news & free show tickets: