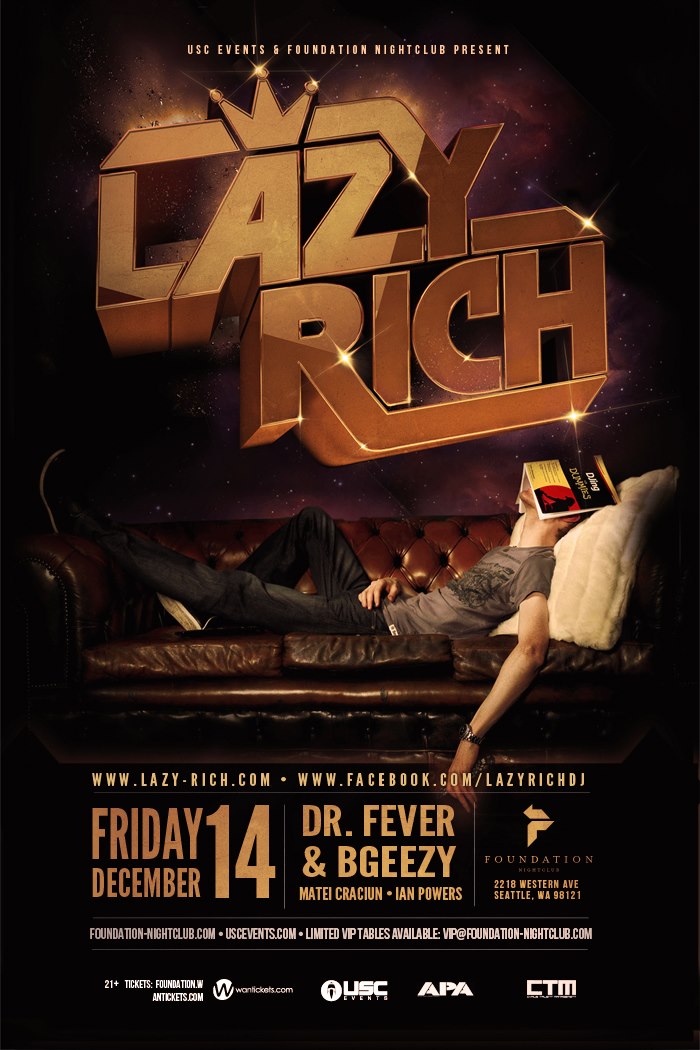 Event update:  Lazy Rich at Foundation Nightclub!    Lazy Rich is an electro-house DJ who has a high energy style that will keep you dancing all night.  I've had the pleasure of experiencing a few Lazy Rich sets, one of which was an absolutely AMAZING playa destroying set at Osiris/Burning Man 2012;  let me tell you – don't miss this, especialyl on Foundation's sound system!
Just announced by Foundation:    "Ladies listen up! We're making this Friday extra special by offering free admission for all ladies. Grab your girlfriends and come party with us!"
Fellas:  Save some $ and get your presale tickets online here.  Hint, if you're a single guy this is THE night to go to Foundation 🙂
Set Times:
9:00 – 10:00 = Ian Powers
10:00 – 11:00 = Matei Craciun
11:00 – 12:00 = Dr. Fever & Bgeezy
12:00 – close (1:45) = Lazy Rich
Event information & links
Facebook event page
Purchase tickets online via WantTickets
Remember to stay up to date on upcoming electronic dance music events in the Seattle area by following the EmeraldCityEDM Events Calendar!