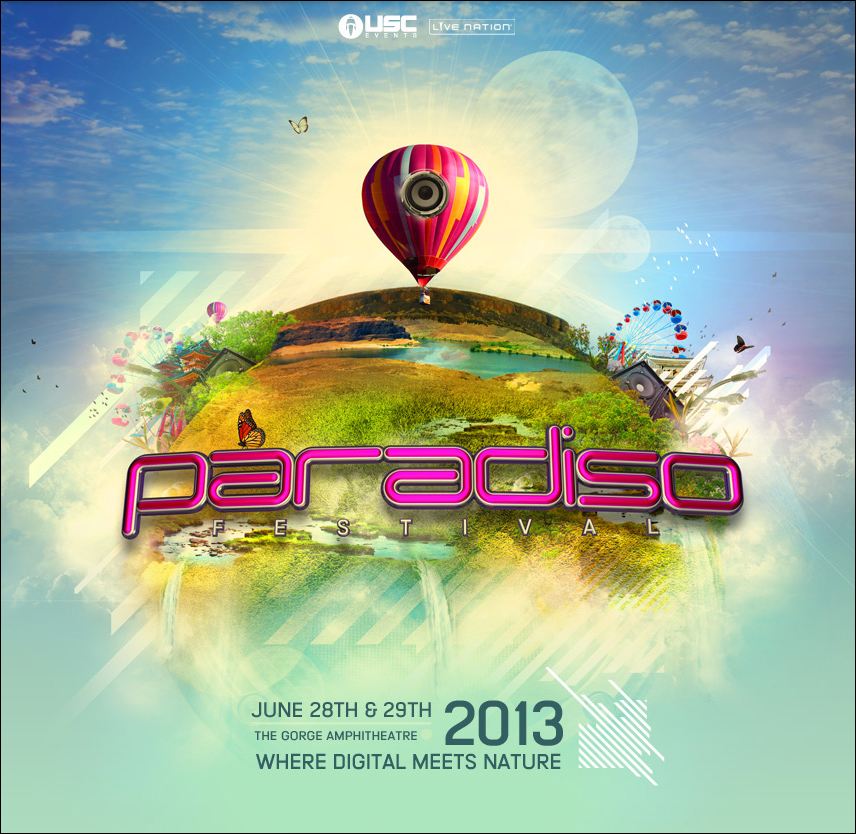 Just announced via Facebook by USC Events:  Paradiso 2013!  
Paradiso 2013 will be held at the Gorge Amphitheatre for TWO DAYS on June 28th & 29th!
Press release:
Last summer, you all came together and helped us celebrate 15 years of USC at the biggest dance music event ever staged in the Pacific Northwest: Paradiso Festival. For one magical day, the Gorge Amphitheater became our Utopia, combining the natural beauty of the Gorge with state-of-the-art production to create an electronic paradise.
This summer, join USC as we return to the home we created at the Gorge, but this time for a TWO DAY adventure on June 28th & 29th!
We invite you to rediscover a paradise where digital meets nature. Nestled in one of the world's most elite natural venues, Paradiso transcends the conventional festival experience by incorporating awe-inspiring theatrical performers, full size amusement park rides, trampoline acrobats, breathtaking art installations, and so much more. Take a spin on our larger-than-life rides that span the vast terrain, relax with your friends in the grassy meadow, and encounter an array of fantastic creatures, all to the soundtrack of some of the best acts electronic music has to offer.
A limited number of early-bird tickets will go on sale Friday, November 23rd at 9am PST.  Only two-day passes will be available at this time and they will be sold at a special low price. Once these tickets sell out, no more will be offered at this price and the general on sale will not happen until March 2013. Act fast to ensure you purchase your pass at the lowest price before they sell out!
2012 Official Aftervideo:
[youtube http://www.youtube.com/watch?v=75Cjtf4zses&w=560&h=315]
Paradiso 2013 Links:
RSVP on Facebook
Purchase tickets (presale starts 11/23/2012)
USC Events's Website Paradiso event page
ParadisoFestival.com