USC Events presents Resolution 2015 with Hardwell!
Links:
Facebook event page
Resolution official website
Purchase presale tickets online*
*Purchase tickets in person at the WaMu Theater box office to save $ on service fees
18+
WaMu Theater
800 Occidental Avenue South
Seattle, WA 98134

Artists:
Hardwell (headliner, only NYE appearance)
Alvin Risk
Bro Safari
Cosmic Gate
Crnkn
Fury w/ MC Dino
Kill The Buzz
Maor Levi
Michael Woods
Morgan Page
Pegboard Nerds
Zomboy
Locals:
Johnny Monsoon B2B Darrius
Beauflexx
Treyis

Meet & Greets:
"This is your chance to meet some of the artists helping you welcome in 2015! Make sure to get in line early, each artist only has a limited amount of time and it is first come, first serve."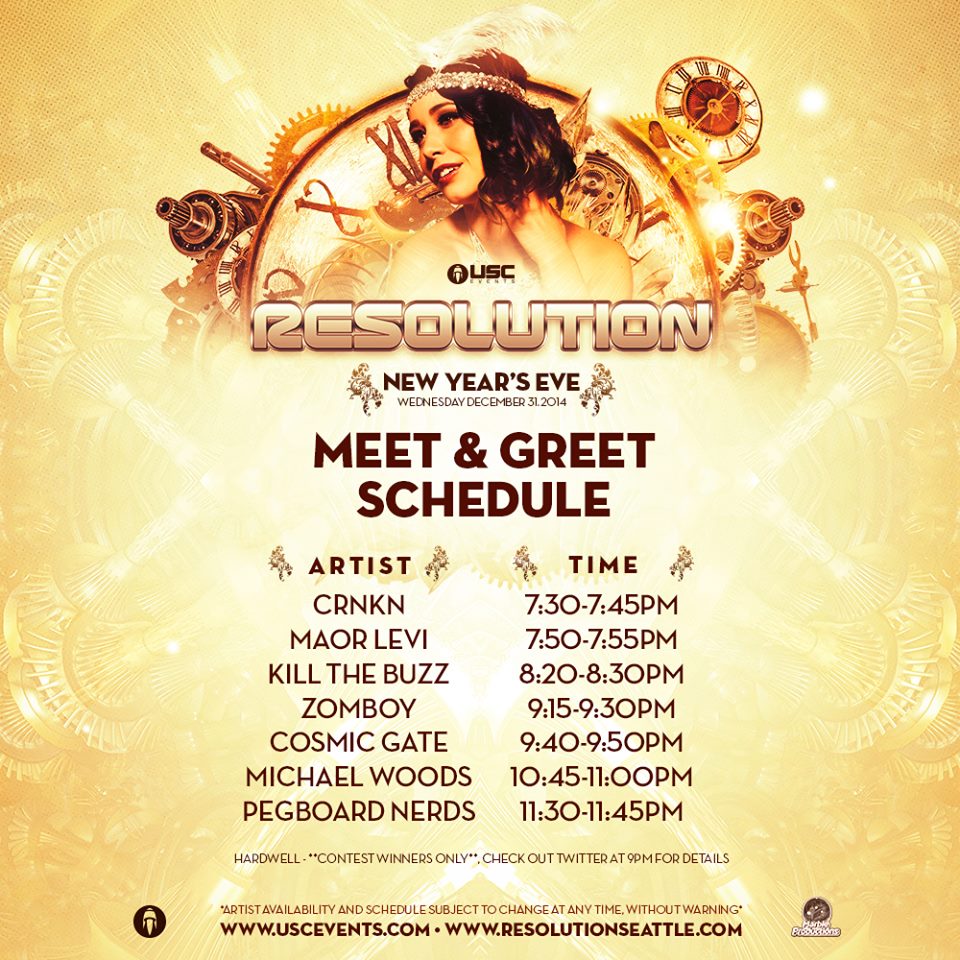 Win Tickets:
-USC Events Giveaway: Win a pair of Resolution tickets
-Only The Beat Giveaway: Win a pair of Resolution tickets
-Dance Music NW Giveaway: Win VIP Resolution tickets
-Trapped Productions Giveaway: Win Resolution tickets at TRNT THURSDAYS at Dante's on 12/18/2014

Official Trailer:


USC will be enforcing new rules for Resolution:
-Only clear bags will be allowed inside the WaMu Theater for Resolution. This includes, backpacks, purses, fanny packs, single compartment drawstring bags, and all other forms of bags. Clear bags cannot be larger than 12x12x6. If you bring a bag that is not clear or larger than 12"x12"x6", there will be lockers available for rent outside the festival entrance under the colonnade at the stadium. These lockers will be staffed by security personal for the duration of the event. Clear bags that meet the above guidelines will be sold for $5 outside the event to locker patrons, $10 for non locker patrons.
-Camelbacks are no longer allowed. Free Water stations will still be available to you all over the venue.
-Stuffed animals of any kind, including plush backpacks, are not allowed.
See the full list of prohibited items here.

Retail Outlet Discounted Tickets: The following retail outlets are offering discounted tickets for 88$ cash, please call to confirm that the retail outlet is not sold out of tickets:
Silver Platters Seattle (Northgate)
9560 1st Ave NE
(206) 524-3472
Silver Platters South Seattle (SoDo)
2930 1st Ave S
(206) 283-3473
Silver Platters Bellevue (Crossroads Mall)
15600 NE 8th St
(425) 643-3472
35th Ave Skates (South Federal Way)
28717 Pacific Hwy S
(253) 839-5202
Click here for a list of retail outlets outside of Seattle. Also, note that Portland & Spokane retail outlets are still waiting on deliveries.

Resolution Local DJ Invitational: Want to perform at the biggest NYE festival in Seattle? Welcome to the Resolution DJ Invitational! USC Events & Wavo are giving you the chance to live the life of a superstar and play alongside Hardwell, Morgan Page, and Cosmic Gate in front of thousands on NYE 2014. Submit your best mix here and get fans to vote for you.
The USC Events team will choose a winner based on appropriate song selection for an opening slot, mix quality, and popularity based on voting. Winner will be announced December 29th. Winner must provide own transportation and accommodations.

Don't forget to stay up to date on local EDM events by following the EmeraldCityEDM Events Calendar.

Press Release: USC Events presents Resolution: When a person transitions from one status to another during a ritual event, we call this a rite of passage. Each year we honor the passing of time with a final yearly gathering where the old is cast away and the new is welcomed. Time is running out on 2014, but we still have one last evening to celebrate our rite of passage! As the clock expires on this year and starts fresh for the next, it's time to plan your Resolution!
Ring in 2015 with the Northwest's Timeless New Year's Eve Tradition: Resolution! Dancing the night away in a festival atmosphere full of surprises to the sounds of world-class artists is the perfect setting in which to reflect on the past and set plans for the year to come. Gather with friends old and new on December 31st as we usher in a new year full of renewal, refreshment, & Resolution!