MindField and BassDrop present:
The Boom Blap! Tour featuring Love and Light, Gladkill, Russ Liquid and Noisemaker
Thursday, May 3rd at Neumos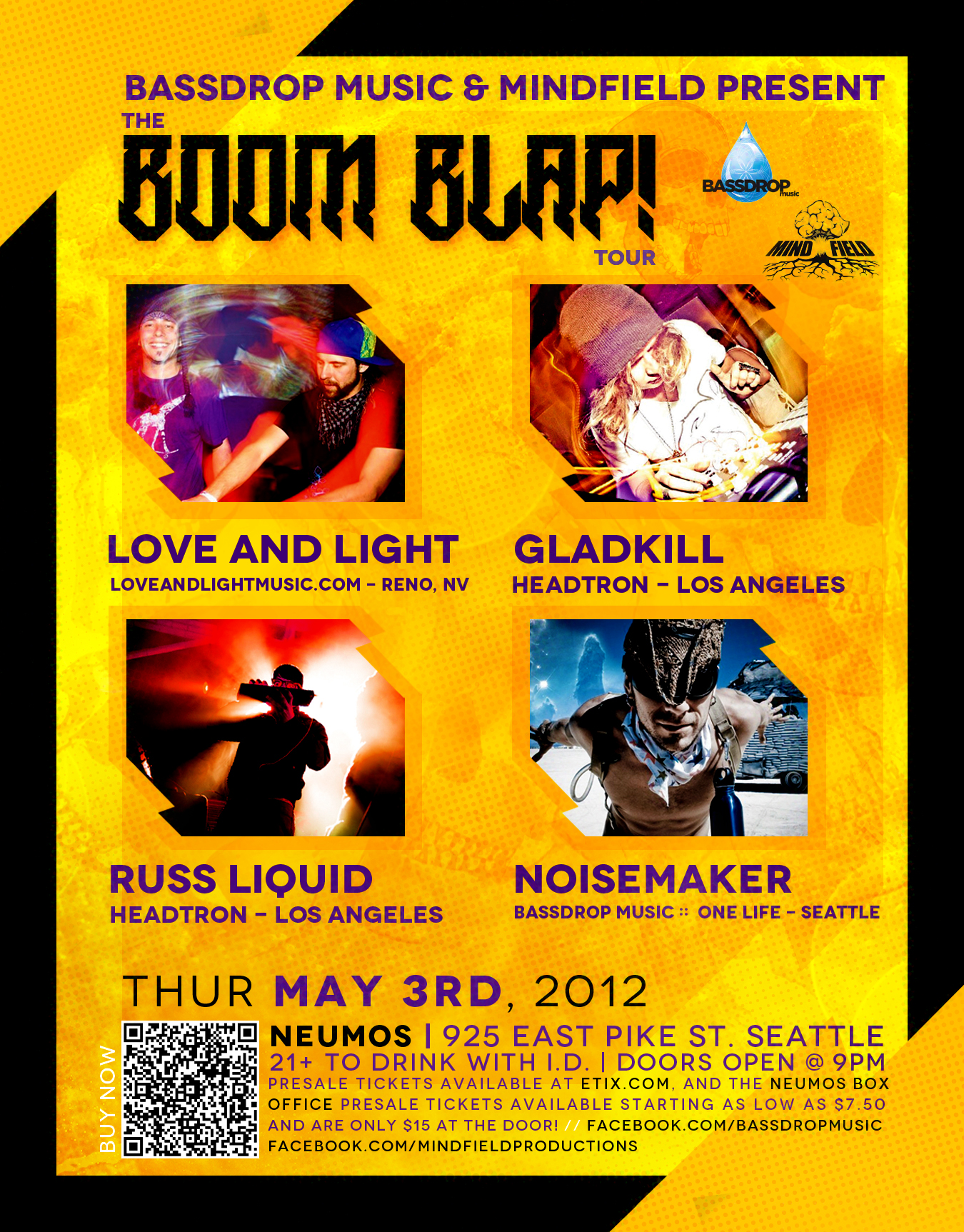 Reno, NV – Fresh Bakin'
Euphoria is the noun most commonly used to describe the feeling when engaging with Love and Light music. With a combination of bouncy, bubbly, bright-eyed, and energetic gravy, the duo's stage presence and everlasting hunger for carving uplifting and melodic frequencies shines bright in the darkest of spaces. The perfect blend of complex chord structure, intricate rhythms, and funky, chunky bass lines fuels their creativity in the genres of mid-tempo bass music, melodic dubstep, half-time drum and bass, and four-on-the-floor bangers. With a combination of pure intention, and an original sound that is crisp and utterly recognizable, the duo's ability to fill dance floors in a combination of theaters, sweaty clubs, and beautiful outdoor festivals comes as no surprise to anyone.  Communicating their passions through positive vibrations and in the moment dancing, Love and Light is on mission to fulfill your musical and spiritual necessities in a full fledged, continental tour spanning the U.S. and Canada throughout the spring, summer, and fall of 2012.
Los Angeles, CA – Headtron
With a heavier emphasis on songwriting and song structure, Gladkill is aiming to make music that will stand the test of time.  When you listen to Gladkill's songs or see him perform, you'll discover an artist set apart between the sheets of cool bass lines and ethereal melodies. In an era where disposable dance music is big business, Gladkill makes anything but.
His remix of Michael Jackson's "Take it Slow" is quickly becoming a modern classic (free download via Gladkill Soundcloud):
[youtube http://www.youtube.com/watch?v=9RLO2ubsiOw&w=560&h=315]
Los Angeles, CA – Headtron
Set apart from other up-and-coming West Coast bass music producers by his extensive world-touring history and performance experience, Russ Liquid brings a much-needed injection of melody and emotion to the thriving dance floor community. Classically trained on the piano, trumpet, saxophone and flute, Russ Liquid applies the colorful tones of instrumental music to the realm of beats with dance floor-rocking results. This talented producer has found an entirely new palette to "paint" with, and now he seeks to bridge the gap between classical and modern music with new electronic technology and sonic possibilities.
Seattle, WA – Bassdrop Music :: One Life
NoiseMaker ignites crowds like the anti-fireman of the sound revolution, a peaceful warrior and artist who sets to flames all who hear his unique and expressive style. His weapon is a smart-bomb of beats, an imaginative interpretation of music which is virtually an orgy of genres from glitch to hip-hop to dub step to 80's pop hits to drum and bass to thug rap from the eastern suburbs of Paris.  Unafraid to take risks, he chops up everything from Rage Against the Machine to Justin Timberlake with no apologies and with much love from his audience.  You better hold on tight kids, this is the red pill.
The crowd salivates for his thick, heavy bass; scratch that, the obese bass, the shamelessly sticky grinding ribcage-rattling thunderfunk that drives humans into transcendent madness. This commander of crunk never fails to stimulate his ever-present crowd, his dynamic musical designs produce an environment where die-hard fans collide with wanderers who step onto the dance floor with, "who the, how the, what the hell is this?" on their tongues in response to his original and engaging performance, and the room explodes with the passion of the new, the bold, and the fresh, which NoiseMaker loves to deliver- you can see it in his eyes.The future of art is happening right now, and it sounds like NoiseMaker. This revolution will not be televised.
Show Information:
Thursday, May 3rd at Neumos
21+ event
9PM-2AM
Tickets available at Moe Bar, Neumos Box office, or online ($10)