Set times: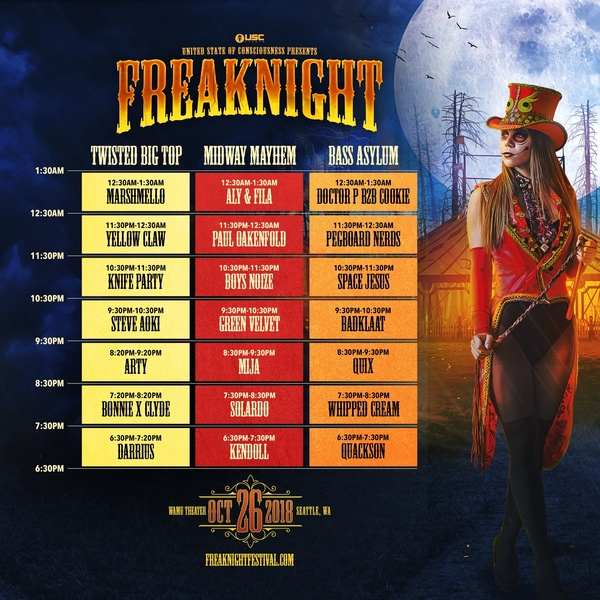 Photobooth photos: Regular or VIP
USC Events presents FreakNight Festival 2018 on Friday, October 26th at the WaMu Theater. This will be the 22nd annual Freaknight, and will feature three stages & the carnival rides and attractions we all love. Ticket sales begin Wednesday, September 12th at 11am PST.
Deep in the night stirs an unspeakable fright. Twisted shadows stir under the moonlight, slowly encroaching on all sides seemingly signaling for you to follow and join in their devilish dance. Slowly sauntering forward, fear of what's to come begins to set in. You want to turn back but there's nowhere to run and hide. Strange lights and sounds can be made out in the distance, but still you move closer unsure of what you will find. Unease turns to excitement as a twisted big top comes into view. The Sinister Circus has arrived!

Come one, come all to the creepiest carnival in town! Step under our Twisted Big Top with this year's sinister selections including Marshmello, Steve Aoki, Yellow Claw, Knife Party, Aly & Fila, Arty, Boys Noize, Doctor P b2b Cookie Monsta, Green Velvet, Paul Oakenfold, Badklaat, Bonnie X Clyde, Mija, Pegboard Nerds, Quix, Solardo, Space Jesus, Whipped Cream, Darrius, Kendoll, and Quackson!

Come one, come all to the creepiest carnival in town! USC Events is proud to announce the 22nd annual FreakNight Festival. Join us on October 26th at the WAMU Theater as the Sinister Circus rolls back into Seattle for one night only. More wild & wicked than ever before, this year's debauchery will include three hair raising stages of music, frightening carnival rides, ghoulish games, perilous performances, and so much more. Dawn your best costumes and step under the big top with us for a night of fright you won't soon forget.
Links & More Information:
Purchase tickets
Facebook event page
Enter to win two tickets and a hotel room!
WaMu Theater
800 Occidental Ave S
Seattle, WA 98134
18+
6:30pm – 1:30am

Stay up to date on upcoming EDM events in the Seattle area by following the EmeraldCityEDM Event Calendar, and enter to win free tickets to local EDM shows on the EmeraldCityEDM Contests & Giveaways page. Sign up for our email newsletter to be notified about EDM events, ticket giveaways and new releases from local producers in the upper right area of this page.