February 2022 Update: This lawsuit has been settled.
On January 28th, 2020 in Western Washington District Court, a legal complaint was filed by Insomniac (producer of EDC) against local events company USC Events and its CEO and owner Chad Anderson. In the complaint, Insomniac alleges fraudulent misuse of funds and seeks an injunction to prevent USC Events from producing Paradiso Festival in 2020. Insomniac is attempting to hold Mr. Anderson personally liable for monetary damages. Paradiso was founded in 2012 by USC Events and has occurred annually through 2019.
In 2013, USC Events and Insomniac entered into an operating agreement with Insomniac via HOB, their parent company and owner of the Gorge venue. The agreement also served as the venue agreement with the Gorge. The operating agreement prohibited Insomniac from promoting or booking another multiple stage electronic dance music concert at the Gorge while the agreement remained in effect. The agreement stated that "so long as the event is profitable to both parties", the agreement shall automatically renew each year.
Alleged issues came to light after the 2019 event, with EDM.com publishing an article exposing that USC Events had still not paid Paradiso vendors as of September 25th, 2019. A default judgement of $29,500 was awarded to a separate company against USC Events for unpaid 2019 stage rental costs, and a $176,000 default judgement was awarded to another company against USC Events for unpaid costs from Paradiso Festival 2017. Insomniac advanced funds to USC Events specifically to pay the judgement for 2017 costs and alleges that USC Events never paid the judgement.
The legal complaint also states that Insomniac paid over two hundred thousand dollars on the first day of Paradiso in order to ensure that the event happened, alleging that USC Events did not pay artists and vendors as promised. Insomniac advanced USC Events $215,055 to cover unpaid artist fees on the first day of the event. USC Events then allegedly told the artists's agencies that payment would come from Insomniac. The complaint alleges that Insomniac had to pay an additional $638,650 in July 2019 and that no explanation was ever given for what the original funds were used for. Ultimately, Insomniac advanced over $2 million dollars to USC Events for the "sole purpose of making specific payments to specific artists and vendors".
In December 2019, both parties reached an agreement that Insomniac would pay USC Events $200,000 to cover remaining amounts owed to unpaid vendors from Paradiso Festival 2019. USC Events agreed in the settlement that all unpaid amounts would be paid by January 18th, 2020 and Insomniac funded the settlement on December 24th, 2019. When USC Events failed to pay the vendors as promised, the legal complaint was filed. One unpaid vendor stated that Mr. Anderson told him that he "had not received settlement from Insomniac yet" on January 7th, 2020. Other vendors stated that they were not paid the amounts due that were supposed to be paid from settlement funds by January 18th.
In September 2019, Insomniac notified USC Events that they were terminating the agreement. Despite the termination, USC Events started promoting Paradiso Festival online via social media, implying that the 2020 event was happening even though there is "currently no venue agreement to operate Paradiso Festival at the Gorge". The social media posts have since been deleted. The lawsuit seeks to make clear that the agreement is officially terminated, as the agreement states that Insomniac is not permitted to promote an "electronic dance music event" at the Gorge so long as the agreement is in effect.
What will happen to Paradiso Festival? Insomniac states that they intend to produce an electronic music festival at The Gorge in 2020 without USC Events involvement. Insomniac is attempting to convince a judge to legally declare the operating agreement as terminated, so they are allowed to host a multiple stage electronic music festival in 2020. The agreement prohibited Insomniac from doing this while the agreement was still in effect. The Paradiso Festival name was originally founded by USC Events, but the operating agreement established that "Paradiso Festival" is a registered trademark jointly owned by Insomniac and USC Events. There is a cross-license provision in the agreement allowing each party to use the Paradiso trademark even if the agreement is terminated. In the filing, Insomniac confirms that there is legally no longer a Paradiso event: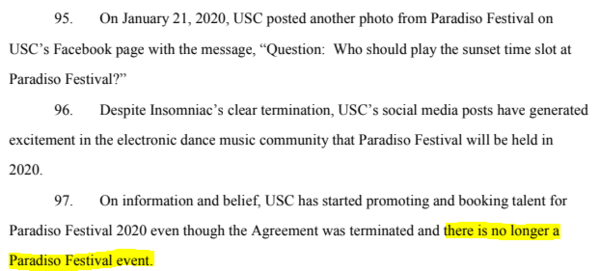 .
Note that HOB, the company that owns the Gorge, is Insomniac's parent company. This all but ensures that Insomniac will end up hosting a major EDM festival at the Gorge. A company as large and as well funded as Insomniac doesn't file an intent to sue without having the receipts to back up their allegations. There will no doubt be a major EDM festival produced by Insomniac at the Gorge, but unless this lawsuit is resolved soon, the Paradiso name will not be used.
What does this mean for the future of USC Events? We were under the impression that Insomniac had purchased a non-majority financial interest in USC Events, but the legal complaint states that Chad Anderson is the "only LLC member of USC". Note that Insomniac is attempting to hold Mr. Anderson personally liable, not just USC Events. A LLC member can be held personally responsible for misconduct if they do not maintain adequate accounting records or co-mingle business funds with personal funds.
This raises the question, if Insomniac is not funding USC Events, and USC Events is having trouble paying their bills, then how are upcoming events being funded? The recently expanded Lucky Festival just failed to post the full lineup on the date that they promised it. A different Reddit user recently commented that the Lucky lineup had been delayed due to the "loss of a major artist". Could this be the end of Lucky Festival as well? It sounds like USC Events is having financial difficulties and not able to cover their expenses without assistance, which is unsustainable.
Comments from longtime Reddit contributor "USC Matthew" RE the Paradiso lawsuit are as follows:
I can confirm this. It is part of the reason. Why I quit along with most of the upper management at USC back in mid September. We left on September 17th, which you can line up with details provided. These have been a heartbreaking past 5 months, and its surreal to see this info come to light. –USC Matthew 1/31/2020
It's really weird seeing all of this info come to light. I have held my tongue for professionalism but this court case sheds a lot of light why there have been issues recently. It is also just the tip of the iceberg as to why myself and most of the management/team left in September. I hope Diso can continue. It is the reason I started worked at USC but the info that has come to light is damning. I have nothing but optimism for what's coming, but I'm sad to see the end of an era come with these proceedings. Much love to Diso and the beautiful members of the amazing community and family. –USC Matthew 1/31/2020
Chad Andersen released the following statement to EmeraldCityEDM:
USC Events finds these recent allegations disheartening and disagrees with this lawsuit. We are disappointed that Insomniac would decide to strain our long-tenured relationship with this litigation, over an event that USC has created from inception. To our community, thank you for your continued support as we work through this. Due to the legal nature of the situation, we are unable to comment further at this time. We will be filing a legal response. -Chad Anderson, Founder & CEO, USC Events via the Fearey Group
Insomniac declined to comment on this story to us. Find updates to the case at PacerMoniter.com and read the full compaint here:
Insomniac Holdings LLC v Co… by EDM Identity on Scribd
In an ironic twist, a copy of the lawsuit was posted on Facebook after the wrong Chad Anderson was served with the legal complaint! Too funny:

Stay up to date on upcoming EDM events in the Seattle area by following the EmeraldCityEDM Event Calendar, and enter to win free tickets to local EDM shows on the EmeraldCityEDM Contests & Giveaways page.