Set Times: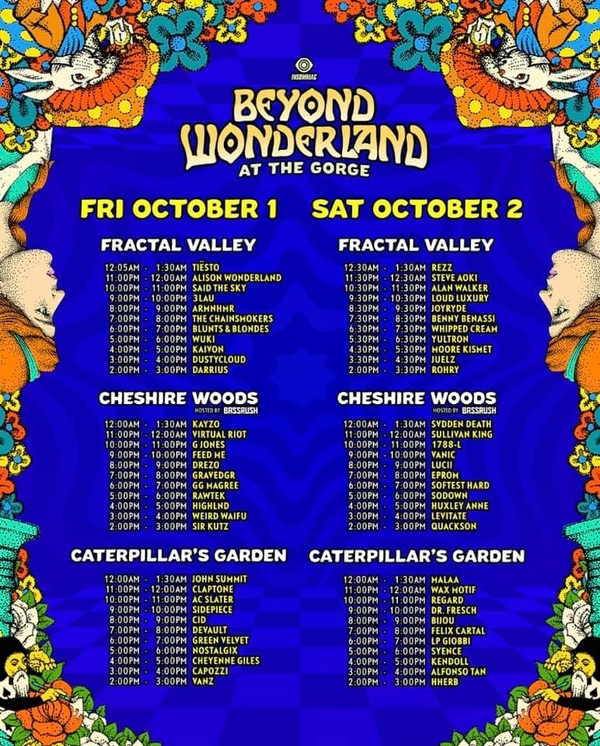 August 2021 Update: Lineup by day has been released and single day tickets are on sale now!
Links & More Information:
Purchase Tickets & Camping (single day tickets on sale 8/26/2021 at 11am PST)
Reserve a Locker
PNW.BeyondWonderland.com
Facebook Event Page
May 2021 Update: The lineup for Beyond Wonderland at the Gorge in October 2021 has been released! Tickets for the October 1st & 2nd dates go on sale Thursday, May 20th at 11am PST.
April 2021 Update: Beyond Wonderland PNW has officially been postponed again to October 1st & 2nd, 2021. Refunds and transfers to 2022 will be accepted through May 11th, 2021 at noon, request your refund or deferment here.
Insomniac released the following statement regarding the postponement: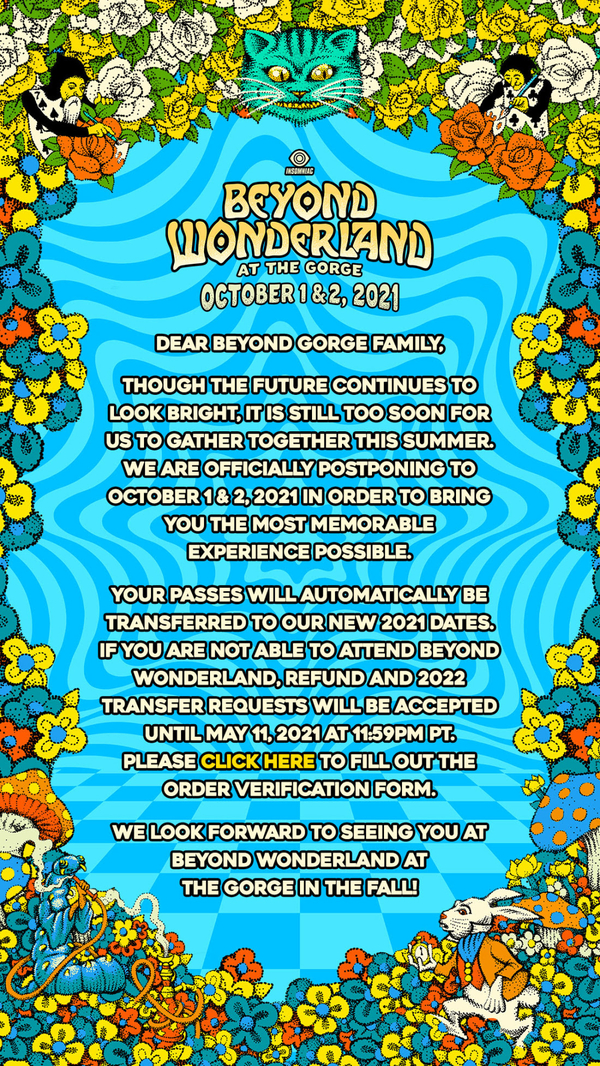 November 2020 Update: The GA ticket presale has now closed, with GA+ and VIP tickets sold out. More GA tickets are expected to be sold at a later date but this is not guaranteed. It will depend on state CoronaVirus guidelines, the Gorge's policies and re-evaluation of capacity limits depending on how things go with a vaccine or treatment. Stay tuned to this post for updates.
BeyondWonderlandPNW at the Gorge has been officially rescheduled to June 18th & 19th, 2021! Tickets are on sale now, with GA tickets starting at $199, VIP tickets at $349 and camping at $109.50. Payment plans are available for a $5 fee. Insomniac confirmed that your camping ticket from last year it is still valid, unless it was automatically refunded.
#BeyondPNW takes over The Gorge June 18+19, 2021 for 2 nights of Music, Art & Exploration + 3 magical nights of Camping! We can't wait to see you all as our Next Chapter unfolds at our stunning brand new venue. -Insomniac Events
Links & More Information:
Purchase GA Tickets
Purchase VIP Tickets Sold Out
Purchase Camping
PNW.BeyondWonderland.com
RSVP on Facebook
Camping:
Campground Hours: Thursday, June 17th at 1pm – Sunday, June 20th at 12pm
2020 Camping Passes: Insomniac confirmed that your camping ticket from last year it is still valid, unless it was automatically refunded.
Map of Camping Options: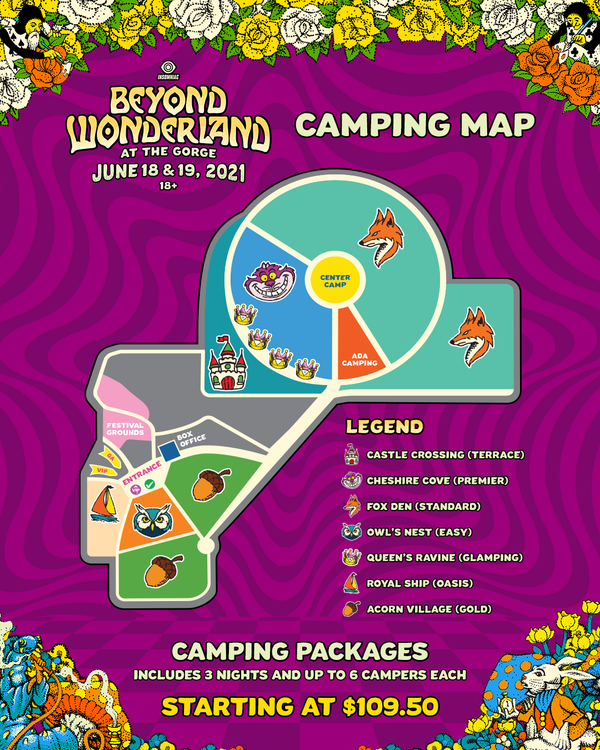 18+
The Gorge Amphitheatre
754 Silica Road NW
George, WA 98848
If you kept your tickets from 2020, you should have received one of these emails from Insomniac Events acknowledging an upgrade: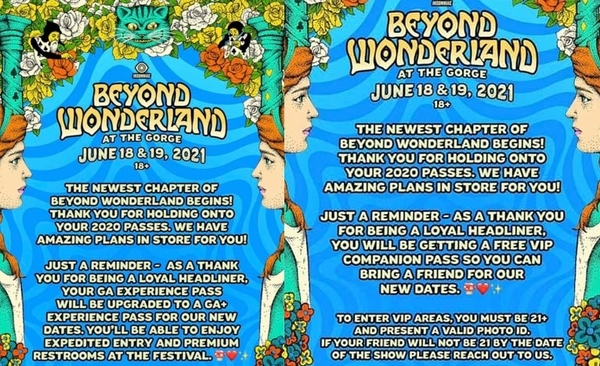 Stay tuned for more information! We will post it here as it is confirmed. Sign up for the BeyondWonderlandPNW email newsletter at PNW.BeyondWonderland.com for updates.
Previously Posted:
Update 5/6/2020: Beyond Wonderland PNW has been postponed to 2021. Refunds are available to request here. Tickets will be valid in 2021, with free upgrades as follows: GA tickets will be upgraded to GA+ (expedited dedicated entry and premium air-conditioned restroom access), GA+ will be upgraded to VIP and each VIP ticket will receive a second complimentary VIP ticket to bring a friend.
Payment plan payments have been suspended and no tickets will be voided for missed payments. You will have an opportunity to either request a refund or make up missed payments at a later time. There will be at least a two week notice before payments resume again.
No information was released regarding camping, but Insomniac stated "Stay tuned to your email for more info regarding camping and other details". Exact dates dates have not been announced yet, but Insomniac noted "We are working hard to have the same or a better lineup." More information and FAQs are available at Pnw.beyondwonderland.com/support/, and if you cannot find an answer to your question you can submit an online inquiry here.
STAY STRONG, STAY SAFE, AND STAY POSITIVE! The well-being of our Headliner community has always been a guiding light at Insomniac. Though the world is moving in a more positive direction, it is still too early for us to gather at Beyond Wonderland at The Gorge in 2020. While we are disappointed by this outcome, we are excited to shift our focus to creating an unforgettable experience for next year's festival. -Insomniac Events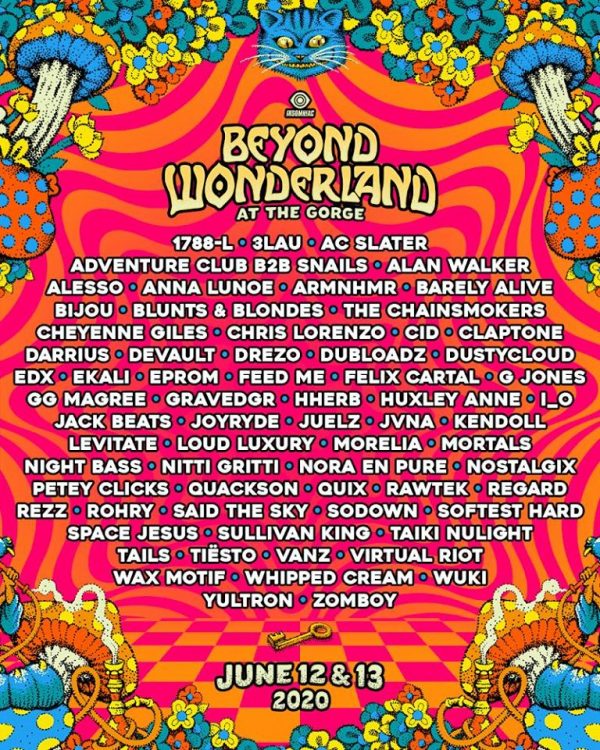 Beyond Wonderland PNW will be held on Friday, June 12th & Saturday, June 13th at the beautiful Gorge Ampitheatre! Tickets and camping are on sale now, payment plans are available.
Links & More Information:
Purchase tickets/camping (on sale Thursday, March 5th at 10am PST)
Facebook event page
PNW.BeyondWonderland.com
Campground hours: Thursday, June 11th at 1pm through Sunday, June 14th at 12pm
18+
The Gorge Amphitheatre
754 Silica Road NW
George, WA 98848
Posted 2/25/2020: Insomniac released the following teaser video for Beyond Wonderland PNW! While the video does not contain any information, it does confirm that the event will be at the beautiful Gorge Ampitheatre in 2020! Sign up for the email newsletter and follow Beyond Wonderland PNW's new Facebook, Instagram and Twitter to be the first to get updates!
The next chapter of Beyond Wonderland unfolds at The Gorge this summer! -Insomniac 2/25/2020
Posted 2/11/2020: Pasquale Rotella of Insomniac announces Beyond Wonderland is returning to the PNW in 2020! Did you attend beyond Wonderland Seattle in 2011? We did; who remembers LMFAO and Gareth Emery?!?!?! It was the last time Insomniac (producer of EDC) held a massive in the PNW.
Pasquale released the following statement via Instagram:
Beyond Wonderland Pacific Northwest: It's been nearly a decade since Beyond Wonderland Seattle, but this year Beyond will return to the Pacific Northwest. I can;t wait to go down the rabbit hole with all of you. Details coming shortly. -Pasquale Rotella, Insomniac
Note the name change from Beyond Wonderland Seattle to Beyond Wonderland PNW … rumors abound that the new event will be held at the Gorge! Rumored dates are June 12th and 13th, but nothing is confirmed. That weekend is open at the Gorge, along with the last weekend of June and the first two weekends in July.
We will update this post with information as it is officially announced. With Paradiso Festival officially on the rocks due to alleged fraud by USC Events, this sounds like a brand new EDM festival is coming to the Gorge sooner rather than later!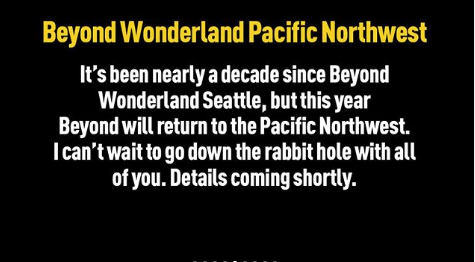 Stay up to date on upcoming EDM events in the Seattle area by following the EmeraldCityEDM Event Calendar, and enter to win free tickets to local EDM shows on the EmeraldCityEDM Contests & Giveaways page.