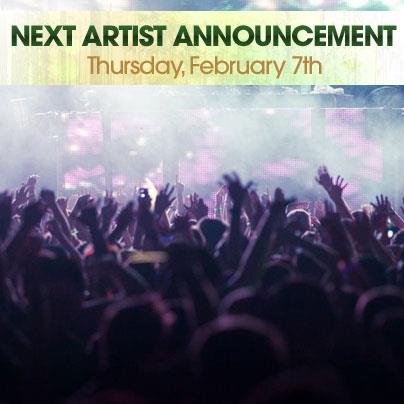 Announced via Facebook and Twitter:    R3hab, Bare Noize, SKisM, Ed Rush & Optical, and Torro Torro! 

These artists will join the already stacked lineup of Pretty Lights, Arty, Bassjackers, Camo & Krooked, Delta Heavy, Fred V & Grafix, High Contrast, The M Machine, Showtek and Zomboy.
Press Release:   Today you don't have to find a four leaf clover for good luck, because we're bringing it to you with another Lucky 2013 artist announcement! Added to our lineup of lucky charms today are R3hab, Bare Noize, SKisM, Ed Rush & Optical, and Torro Torro. 
With all the craziness of Lucky 2013, we're all going to need some R3hab! In a short number of years, rising Dutch DJ and producer R3hab has been making huge waves in dance music, injecting unsurpassable energy into his mammoth big room productions. Signed to Afrojack's Wall Recording and hailed as 'one of his biggest talents', R3hab has ignited the dance floor at all the major festivals with his high-energy stage presence. He'll be taking over the decks at Lucky 2013 for his first Northwest appearance since Paradiso 2012!
Since the release of their early tracks such as 'Chucky' and 'Filthy Lummox', Bare Noize have been hailed for their top-notch production skills and and heavy-hitting tunes. With an ethos of premium production quality, the duo delivers dubstep with a technical variant, combining big low bass, jack-saw riffs, and blistering sonic quality with perfected technique. Expect Bare Noize to absolutely slaughter the dance floor at Lucky!
A part of the Never Say Die Tour with Zomboy, SKisM combines technical agility with heavy-hitting tune selection to create an unparalleled listening experience. His multi deck setup has gained him notoriety as an electrifying mixer and he never fails to whip a crowd into a full-on dance floor frenzy. Come see why SKisM is quickly becoming one of bass music's powerhouses at Lucky 2013.
Ed Rush & Optical's no-nonsense underground productions have created a lasting legacy that has been fundamental to the development of dnb. As originators of the dark side of drum and bass, co-founders of Virus Recordings (one of the most influential labels in the genre), and producers of genre classic including 'Chubrub' and 'Bacteria', seeing Ed Rush & Optical is like witnessing a living legend. Behind the decks they deliver only relentless dnb guaranteed to cause some havoc on the dance floor! Are you ready?
Toronto based Torro Torro are the prototype of contemporary party music. High energy big room beats, driving electro-house, and adrenaline-boosting dance floor bombs compose their critically acclaimed DJ sets. Whether you are a moombahton fan or just looking for the ultimate party on the dance floor, you definitely don't want to miss Torro Torro at Lucky 2013!
Trance & progressive fans- we did not forget about you! A lucky artist announcement just for you is coming soon. 🙂
Lineup as of 2/7/2013:
Arty
Bare Noize
Bassjackers
Camo & Krooked (Hospitality DnB)
Delta Heavy
Ed Rush & Optical
Fred V & Grafix (Hospitality DnB)
High Contrast (Hospitality DnB)
The M Machine
Pretty Lights
R3hab
SKisM
Torro Torro
Showtek
Zomboy
Lucky 2013 links & more information:
Facebook event page
USC Events Lucky 2013 website
Capacity:  Per inquiry of USC Events, the capacity for Lucky has not yet been determined.  USC Events stated that "we are still working with the venue and fire marshal to figure out the exact capacity for this year's LUCKY festival".
Tickets:  Tickets are available online now via Ticketmaster, or at the physical locations listed online via this link.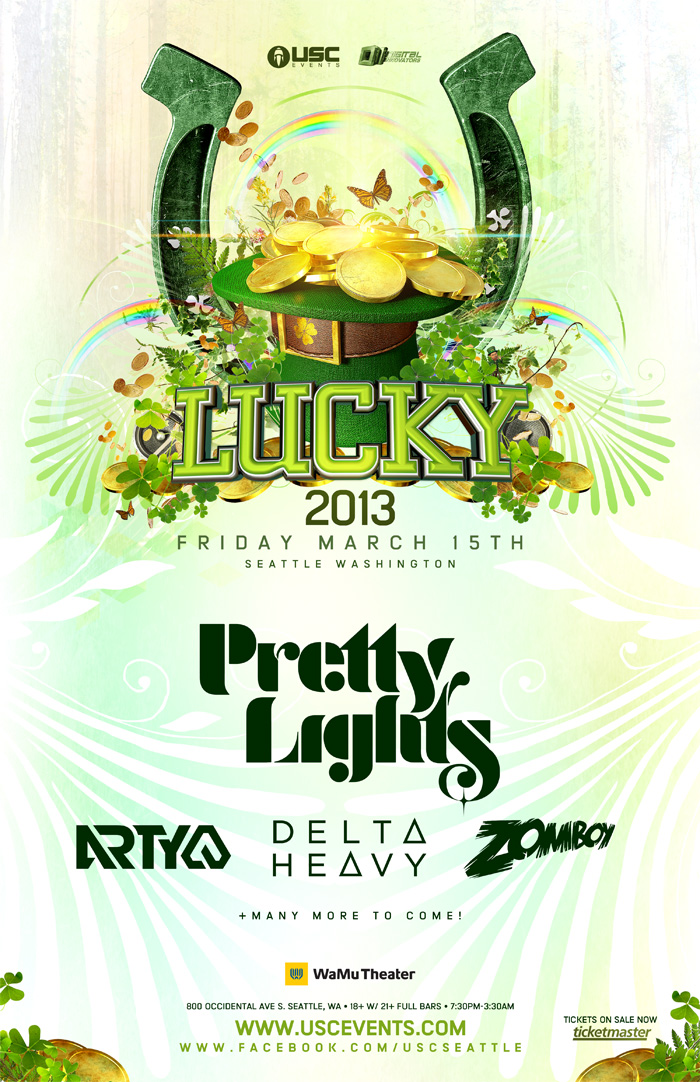 Stay up to date on all Lucky announcements and information by following the EmeraldCityEDM Lucky 2013 page, and remember to stay up to date on upcoming electronic dance music events in the Seattle area by following the EmeraldCityEDM Events Calendar!