USC Events presents NGHTMRE B4 XMAS Tour with NGHTMRE, Bro Safari, Midnight Tyrannosaurus, Ducky & Swage on Saturday, December 8th at the Tacoma Dome! Tickets are on sale now (use code "XMAS")!
Join us on December 8th for a special harrowing night at the Tacoma Dome with the 'NGHTMRE B4 XMAS Tour.' NGHTMRE along with Bro Safari, Midnight Tyrannosaurus, Ducky, and Swage will be gifting us a terrifying amount of bass and sending us all home for the holidays with memories that will last a lifetime. -USC Events
Links & More Information:
Purchase tickets (use code "XMAS")
Facebook event page
18+
7pm-12am
Tacoma Dome
2727 East D Street
Tacoma, WA 98421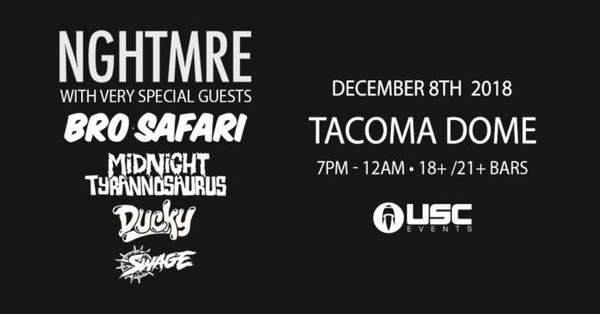 Stay up to date on upcoming EDM events in the Seattle area by following the EmeraldCityEDM Event Calendar, and enter to win free tickets to local EDM shows on the EmeraldCityEDM Contests & Giveaways page. Sign up for our email newsletter to be notified about EDM events, ticket giveaways and new releases from local producers in the upper right area of this page.