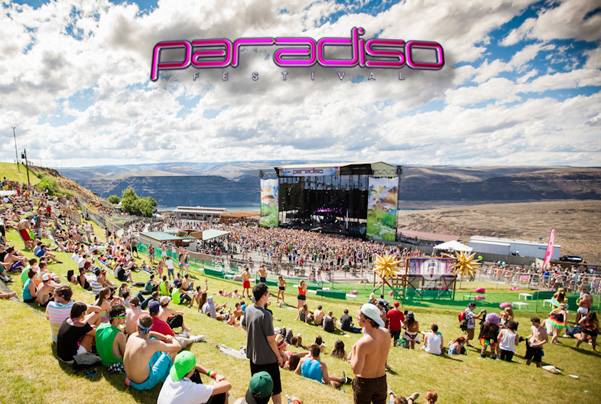 Lineup Changes:
Crystal Method:   Due to health issues, the Crystal Method will  NOT be performing at Paradiso this year.  Sadly, no DJ set will occur either. In a statement to EmeraldCityEDM, USC Events stated "Unfortunately The Crystal Method (Live) will be unable to perform at Paradiso this year".
Scott of the Crystal Method released this statement via Facebook in May 2013:  "I can't tell you how frustrating it is for me that my health has made us postpone the release of the new record and cancel a summer full of amazing shows. But I am fully intending to be back in the studio in a couple of weeks with Ken, and our agents are starting to work on putting together new shows for the fall".
Lineup Additions:  Swanky Tunes,  Flinch, Connor Cruise and Armanni Reign (performing with Andy C) have been added to the lineup, along with local artists Allya, Beauflexx, Diamond Pistols, Darrius, James Renegade, Johnny Monsoon, Just One, Nato Feelz and Sean Majors. Read all about the lineup additions via the press release issued on May 17th.
Find the most up to date lineup at the official Paradiso Festival website lineup page.  Set times are expected to be released "soon", and will be published on the Paradiso Festival website news page.
Tickets:  As of the writing of this post, the festival is not sold out.
Camping:  The Gorge Campground will open for Paradiso Festival on June 27th at 3pm and remain open through June 30th at Noon. Camping passes are per vehicle, not per person.  Premiere and Terrace camping are sold out, but general camping is available to purchase online here. In the past, the Gorge has typically offered camping passes for purchase on site, thus allowing you to save money by not paying the Ticketmaster fee for camping.  EmeraldCityEDM inquired of the Gorge Camping administration regarding the price and expected availability of camping passes for purchase on site, and was told that camping passes on site will "be about the same amount as they are if purchased online ahead of time".   Find all camping information on the Paradiso Festival official website camping FAQ page.
Trailer: The official trailer for the 2013 Paradiso Festival has been released! Check it out here:
[youtube http://www.youtube.com/watch?v=NWCtUzNlIuw]
Join Kill The Noise, Fury, MC Dino, DigDug, and JustOne on June 26th, 2013 for a special edition of SUBstance Wednesdays at Foundation Nightclub, where they will take over and throw down the "most epic festival pre-party this city has seen"!
Pre-party links:
RSVP on Facebook
Purchase discounted presale admission
Paradiso Festival Links:
Paradiso Festival official website
Facebook Event page
Purchase tickets online via Ticketmaster
Stay up to date on upcoming public electronic dance music events in the Seattle area by following the EmeraldCityEDM Events Calendar. See you at the Gorge!