Exclusive Interview: Gray of Savoy speaks with EmeraldCityEDM about the Get Lazer'd Tour, Self Predator album, and Seattle!  
EmeraldCityEDM: For readers who aren't familiar with Savoy, can you describe your sound?
Savoy – Gray:   We're on the underground side of dance music but we definitely dabble in a bunch of different genres.  We mix a bunch of different genres of electronic music to make our own sound, but it's definitely on the darker, heavier side. We also use a lot of live instruments, so it's got that live feel to it.
EmeraldCityEDM:  We finally got to hear you guys for the first time this last summer, and were blown away by the live drumming!   That's something that we don't hear a lot and it was absolutely fantastic.  Has the live instrument aspect been something that you've always done or is it new?
Savoy – Gray: We actually originally started out as a full live band, with drums, bass , and guitar.  Then we went down the electronic path, but Mike is such a talented drummer and we loved the sound of real rums, so we decided to keep that. In the future, we might start adding more live elements, not sure yet.
EmeraldCityEDM: Do you try to incorporate anything else other than the drumming in your live shows, perhaps a vocalist?  Is that something that you guys have tried in the past?
Savoy – Gray: Were not performing vocalists ourselves, but we have done shows with Heather Bright, aka "Bright Lights" who sang on a bunch of our tracks.  She's done a bunch of live shows with us in a few different places – LA & Red Rocks, those have all been great.  SOFI has also done shows with us. We love having vocalists out, its always fun and adds a whole another performance aspect.
EmeraldCityEDM: Any plans to bring out any vocalists on the Get Lazer'd Tour?  We saw quite a few names on the Self Predator track listing that looked like collaborations.  
Savoy – Gray:  That is a possibility for the Get Lazer'd Tour, I can't confirm or deny right now.
Download the full album Self Predator for FREE here!
EmeraldCityEDM: Lets move on to the Self Predator debut full length album. We love "I'm In Need – VIP", that's one of the new tracks that will be on the album, correct?
Savoy – Gray: That was one of the first singles that we made a long time ago, the original I'm In Need, which took off.  It's always been a great live track for us, so we tried to freshen it up for the live show. It's always worked really well for us so we wanted to include it on the album.
EmeraldCityEDM: We noticed that I'm In Need VIP sounds like it has a little bit of a trap influence to it, is that a sound that's just found on this remix or will it be present on the whole album?
Savoy – Gray: Not really too present on the whole album, but we listen to pretty much everything so we take influences from all over the place. For example, there are a few different trap DJs that I really like but you're not going to hear anything on the album that's like a lot of the trap that's out there. There's another track called "Busy" that's got somewhat of a trap influence that you'll hear but it's pretty different than most of the trap that's out there.
EmeraldCityEDM: What were some of the trap DJs that you mentioned, the ones that you're a fan of?
Savoy – Gray: Some of my favorites are Gent & Jawns and I also like RL Grime a lot.
EmeraldCityEDM: RL Grime was just out here in Seattle actually, at a sold out show at the exact same venue that you guys will be playing.
Savoy – Gray: Cool! I caught part of his set at TomorrowWorld and I really liked it. The thing that I thought was cool about his set was that while he obviously played mostly trap, he incorporated some techno in there too, which we are really into.  He also played a song by one of our favorite DJs, Gesaffelstein, that was cool.
EmeraldCityEDM: Let's move on to Seattle & the venue that you will be playing at. You guys will be playing at the Neptune Theatre, which is an older historic renovated theater.   Any thoughts about Seattle or the venue ?
Savoy – Gray: We haven't played too many shows in Seattle so i'm not super familiar with it or the venues. The last time we played near Seattle was at Paradiso. I love that type of venue, it's got its own character.
EmeraldCityEDM: The Neptune certainly has some character, but is in Seattle proper and indoors. I think it's actually going to be the perfect setting for the Savoy laser show, because there are a couple different levels of seating, but it's small enough to really get up close.  We're really looking forward to your show, we've only ever seen Savoy outdoors during the day so we've never been able to see the light show.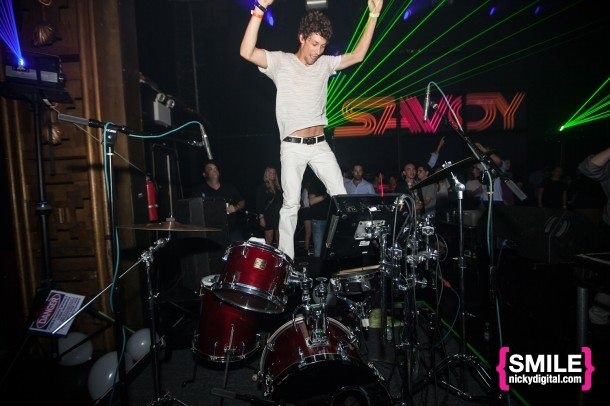 EmeraldCityEDM:   We noticed from the PR company's press release that "Savoy's lasers are the only lasers in US government approved to shoot people in the face"!  How did that come about?
Savoy – Gray:  I'm not fully involved with all of the details but they are audience scanning lasers, and I know that they require a bunch of extra paperwork.  They're really amazing and I guess you'll just have to see it for yourself!  They're kind of hard to describe but they're really cool.  We used them one time last year at Red Rocks for at Global Dance Festival, and we're really excited to have new audience scanning lasers on tour with us.
EmeraldCityEDM:  Is that something that's pretty rare?  I've never heard that term "audience scanning lasers".
Savoy – Gray:  Yeah, I don't really know too many other people that are using them, I think that there are maybe one or two other acts that use them intermittently, but I think that we're pretty much the only people that are bringing them on tour.
EmeraldCityEDM:  Any thoughts on the integration of these visual aspects into the shows?  EDM shows are getting so big with so much production, do you have any thoughts about how that relates to the music and your performances?
Savoy – Gray:  Well, one thing that I think is really cool about the visual aspect of the show is that it highlights the intricacies of the music.  Our laser designer knows the music so well that he can design the lights to pull out the intricacies of the music that you might not notice without the lights making them more obvious.  Also, it kind of helps put people in a different place and get in the zone, or helps them feel like they are somewhere else.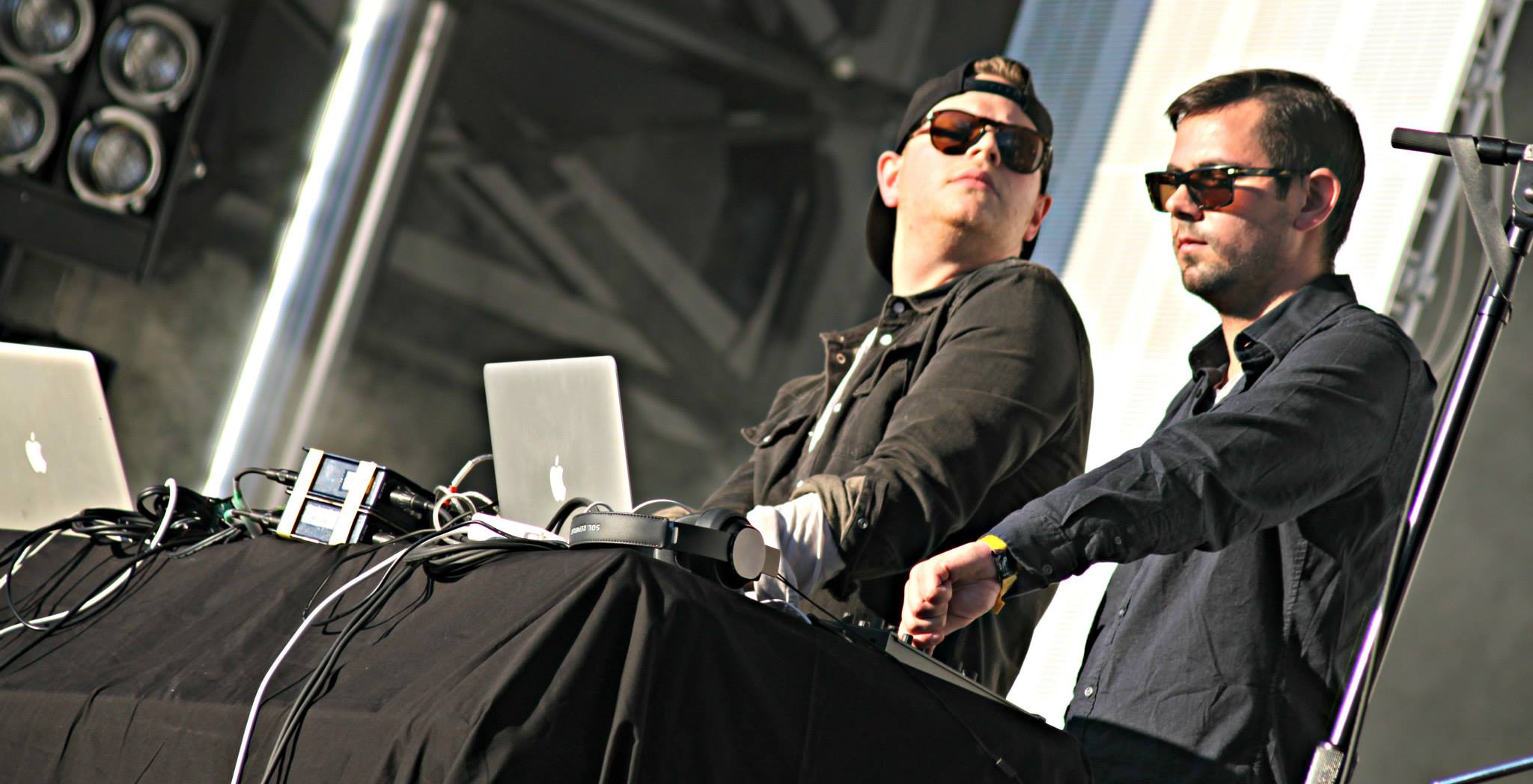 EmeraldCityEDM:  OK, just a couple more questions – what's your craziest tour story?  
Savoy – Gray:  Questions like this are funny because tours kind of blend together and honestly just blow by, because they go so fast.  Last year, our bus broke down in the middle of Madison, Wisconsin and it was negative degrees out so that was pretty interesting; touring isn't all fun and games.  We've got a new and improved ship this time around.  
EmeraldCityEDM:  Has there been a favorite show that you guys have played, and if so, why?
Savoy – Gray:  Our home market and home base is in Colorado, so we love going on tour there.  They are people that have loved us and supported us for a long time.  If I had to pick a favorite I'd have to say all the shows we've played in Colorado, especially Red Rocks because it's such an amazing venue.  
It's also really fun, especially for me, to see us getting such good reception in Chicago.  We just got to play in the Bears stadium for Spring Awakening Festival last year, being from Chicago and growing up as a Bears fan that was pretty cool.  
On the west coast, especially Seattle and Portland, you can really tell that those crowds are really paying attention, which I think is cool.  Some other places that you go, you can tell that people are just partying and having a good time, and that's great, but I've noticed that on the west coast that people are following it really closely.  
EmeraldCityEDM:  Right on!  We have a great scene out here with a lot of very knowledgeable EDM listeners, so it's really cool to hear you say that.
EmeraldCityEDM: Any tips for aspiring producers or artists?
Savoy – Gray:   Work really hard and learn your craft, try to find a mentor and don't be afraid to ask other people how to do something.  The way I've done it is just by doing a ton of research online and a lot of practice.  As far as releasing music goes, most important is to get your music out to as many people as you can.  So if that means that someone bigger is willing to represent your stuff and send it to a bunch of people  that's great, otherwise releasing it for free and getting your friends to pass it along is great too.  
EmeraldCityEDM:  Anything to say to Seattle in closing?
Savoy – Gray:  We're really excited and we'll see you soon!
Savoy is Online at:
SavoyBand.com
Soundcloud
Facebook 
Twitter
World-class laser light show specialist Eliav Kadosh will join the "Get Lazer'd Tour" tour, making the Savoy experience unlike anything audiences have ever seen before.  The tour will incorporate a raging light show featuring 250 watts of lasers which are the only lasers in the world government-approved to shoot people in the face.  More information about the tour is online here.

Win a pair of tickets to this show c/o STG Presents & EmeraldCityEDM! Enter to win here:


Savoy: Get Lazer'd Tour at the Neptune – Links & More Information:
Tuesday, February 4th, 2014
All Ages / 21+ Bar
$15.00 presale, $18 day of show (if available)
Purchase tickets online*
RSVP on Facebook
STG Presents event information
*Purchase tickets in person at the Neptune box office (or the Paramount) or at the Paramount's 24hr ticket kiosk to avoid paying service fees)
Stay up to date on upcoming public electronic dance music events in the Seattle area by following the EmeraldCityEDM Event Calendar.