Announcing the 2014 11th annual Decibel Festival! Founded in 2003, Decibel Festival has become a unique platform for exposing attendees to leading-edge multimedia art from around the globe. With a focus on live performance, interactive multimedia art, state-of-the-art sound and technology based education; Decibel has solidified itself as one of the premier electronic music festivals and promotional organizations in the world. The five-day festival program averages over 25,000 attendees a year.
First Wave Artist Announcement 5/6/2014: Unveiling the first wave of artists performing at the 11th Annual Decibel Festival, September 24th through the 28th across Seattle: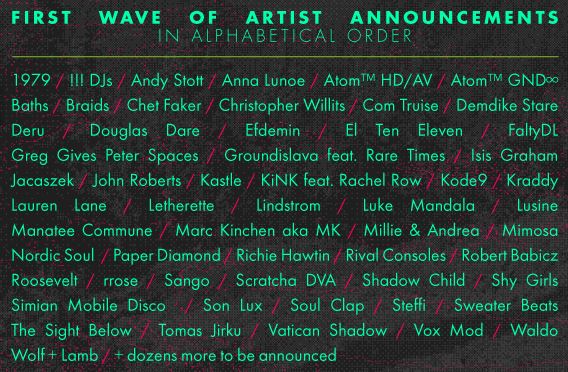 Remember that this is only the FIRST artist announcement, stay tuned to EmeraldCityEDM for additional artist additions! Stay up to date on upcoming public electronic dance music events in the Seattle area by following the EmeraldCityEDM Event Calendar.
Links & More Information:
Purchase DBx 2014 Festival Passes online
Purchase individual event tickets (coming soon)
RSVP on Facebook
Explore the lineup online
Official DBx Festival Website
Facebook
Twitter
The 2014 Decibel Festival will include:
• 100+ audio/visual performances hailing from 20+ countries
• 40+ individual concerts ranging from boat parties, seated theaters, massive club events
• 18 workshops geared towards audio technology
• 4 workshops geared towards visual technology
• 3 lectures from marquee artists and educators
• 2 interactive industry happy hour events
• 3 feature films highlighting electronic music history
• 20+ short films curated by Decibel and various media partners
• Largest dB Park / BBQ event yet (with contingency plan for weather)
• Opening Gala event at the prestigious EMP Sky Church
About the dBx Conference: From inception, Decibel as an organization has prided itself on providing technology-based arts education to the public. Over the years, the dB Conference has played a significant role in fostering emerging talent while bridging the gap between the music industry and festival attendees. The 2013 3-day dB Conference was our most ambitious and thought provoking to date. Each day was packed with world-renowned artists and producers, giants from gaming and lighting, live demonstrations, and a few heated debates. With the addition of EMP, we anticipate 2014 to be our largest and most complete dB Conference ever. This year we'll be increasing the focus on visual arts education, audio workshops, films, product demos, and hands on interaction with hardware and software companies looking to expand their audience.
Artist Announcement 5/6/2014:
1979
!!! DJS
Andy Stott
Anna Lunoe
Atom
Baths
Braids
Chet Faker
Christopher Willits
Com Truise
Demdike Stare
Deru
Douglas Dare
Efdemin
El Ten Eleven
Faltydl
Greg Gives Peter Spaces
Groundislava
Isis Graham
Jacaszek
John Roberts
Kastle
Kink ft. Rachel Row
Kode9
Kraddy (of the Glitch Mob)
Lauren Lane
Letherette
Lindstrom
Luke Mandala
Lusine
Manatee Commune
Marc Kichen AKA MK
Millie & Andrea
Mimosa
Nordic Soul
Paper Diamond
Richie Hawtin
Rival Consoles
Robert Babicz
Roosevelt
RRose
Sango
Scratcha DVA
Shadow Child
Shy Girls
Simiam Mobile Disco
Son Lux
Soul Clap
Sweater Beats
The Sight Below
Tomas Jirku
Vatican Shadow
Vox Mod
Waldo
Wolf & Lamb
+ DOZENS MORE TO BE ANNOUNCED