Washington summer festival and events COVID19 update: The Coronavirus has caused multiple events in Washington to be cancelled or postponed. Here is what we have seen so far regarding upcoming summer festivals and large events. Whats been canceled? What's still up in the air? While no one can tell what the future will hold, the following updates have been released.
TLDR, in chronological order:
Beyond Wonderland PNW: Postponed to 2021, tickets carry over with upgrades & refunds available.
Black Book on the Park (4th of July): Canceled, refunds automatically issued.
Seven Lions at the Gorge: Canceled, refunds automatically issued.
CHBP: Postponed to 2021, tickets carry over with upgrades & refunds available.
Cascadia Festival: Canceled, refunds automatically issued.
Shambhala Festival: Canceled, tickets carry over to your choice of 2021, 2022 or 2023 with no refunds.
Summer Meltdown Festival: Postponed to 2021, tickets carry over with refunds available.
Dirtybird BBQ: Canceled, refunds automatically issued.
Bass Canyon: Postponed to 2021, tickets carry over with refunds available.
Beyond Wonderland PNW:
Beyond Wonderland PNW has been postponed to 2021. Refunds are available to request & tickets will carry over to 2021 with free upgrades. Find all of the details here.
Previously posted: The first massive of the summer is a little over two months away. With EDC Vegas postponed until October, what will happen with Insomniac's inaugural Beyond Wonderland Festival at the Gorge? Pasquale Rotella, the founder and director of Insomniac Events, has been keeping fans updated via his personal Instagram. If Beyond Wonderland PNW is postponed or canceled, we expect Pasquale to share it first. Insomniac announced the postponement of EDC approximately six weeks before the originally scheduled date. If they follow the same schedule, they will update us by early May. Seeing as how the statewide stay at home order has been extended until May 4th, this may be the ideal time to make a decision.
Realistically, the event is likely to be postponed. With countries enacting travel bans, borders closing and flights canceled among other international travel restrictions, could the DJs even be able to travel to the USA in June? The Gorge has the 4th of July weekend open, as well July 24th & 25th (Shambhala and Cascadia festivals are scheduled this weekend) and after Labor Day. However, with many artists canceling or postponing entire tours, it's very likely that additional weekends could open up at the Gorge as plans change.
We have reached out to Insmoniac and will update this post if they have a statement to share. There has not been an update regarding payment plan tickets but Insomniac did suspend cancellations for non-payment of EDC payment plan tickets. Beyond Wonderland last released an official update on April 8th on Facebook and Instagram).
Capitol Hill Block Party:
The Capitol Hill Block Party has been canceled for 2020 and new dates have been set for 2021. CHBP released the following update on 4/9/2020: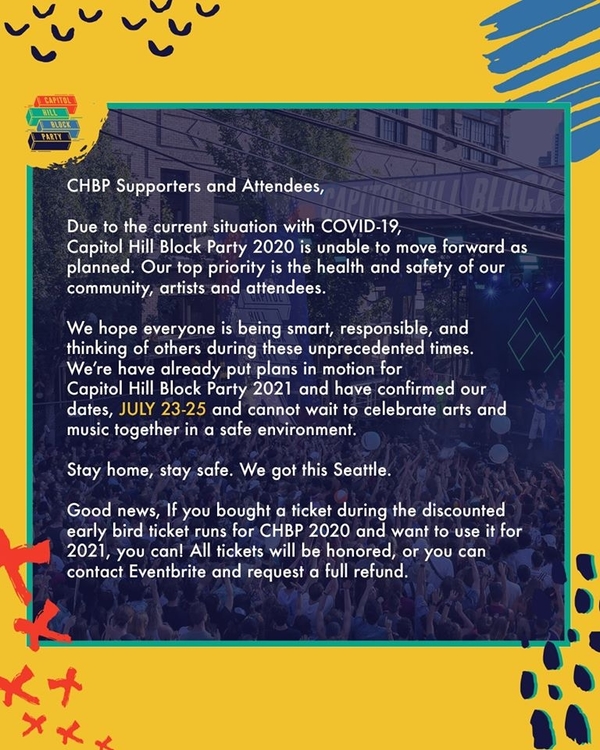 Shambhala Festival:
Shambhala Festival has canceled 2020 and will transfer 2020 tickets and lodging purchases to your choice of 2021, 2022 or 2023. Refunds will not be offered. Read the full announcement here.
Previously posted: Shambhala Festival released the following update on 3/12/2020:
In these uncertain times, we must do what we do best: celebrate ShambhaLove. The health and safety of our guests and staff is our primary concern. We are all facing difficult circumstances, however, we want you to know that we are a Farmily and we stand together.

Shambhala Music Festival will proceed as planned. Based on the current information provided by health and government authorities, and with several months still to go, we do not anticipate disruption to our summer festival.

To address questions relating to refunds: In the unlikely event that we are obligated by the government or if the festival determines that it is not safe to proceed in July, we would postpone the event to a later date. All purchases would be valid for a future date and would be redeemable at any time across the following three-years. Our ticket terms and conditions can be found here. However, as previously stated it is still our intention to move ahead in July as planned.

Our promise to you is that we will continue to monitor the situation and will provide regular updates via social media and email. We would like to thank you for your patience and trust in us; we have faced challenges in the past and know that together with our community, we will keep doing what we love. Despite these difficult circumstances, we can't wait to see you on the dancefloor!
Cascadia Festival has been canceled, all tickets and parking passes will be automatically refunded. More information here.
To our Cascadia NW Friends and Family: With heavy hearts, we must finally announce that we are officially cancelling Cascadia NW Arts & Music Festival 2020. Please know that we would love nothing more than produce an unforgettable weekend in the forest with you – celebrating creativity, nature and each other in our beautiful Cascadia bioregion. … We, the Producers, cast, and crew of Cascadia NW, send out a big beam of love to you, our community, and are here, already planning for the time when we will be able to gather once again. Until then, be well, and take care of each other! -Your friends at Cascadia NW Arts & Music Festival.
Previously posted: Cascadia released the following update via email on 3/16/2020:
Greetings Dear Friends and Family,

We wanted to reach out to send love and support during these challenging times. Please check in on each other and keep yourselves healthy and positive, and most certainly reach out if you are feeling distressed in any way. We're all in this together, and there is light at the end of the tunnel!

Given the circumstances with the spread of the C-19 virus in the NW, we wanted to give an update on the festival. Currently, the producers and crew are in a self imposed "pause," a hold and wait pattern, to see how things progress over the coming months as we approach summer. We are doing this with a positive outlook that the festival will happen as scheduled, while monitoring the situation closely in an effort to make sure that all of our people will be safe and sound to gather together in the forest in July. We will not move forward with planning unless we are confident of everyone's safety.

As we wait, it is understood that some of you may be encountering financial difficulties and may need to refund your ticket to put those funds towards other needs. To ease any burdens, Cascadia NW Arts & Music Festival tickets are now 100% refundable for you if you feel the need to do so. Please work through Eventbrite if you wish to get a refund at this time. Also note, you will be able to purchase your ticket back at the same level you purchased it originally if all goes well, and you want to join us.

For now, we are holding on selling the car camping and RV spots. We will make an announcement about these at a later date.

We've also decided to extend our artists' submission applications until the 22nd of March, so if you thought you missed the window, it's still open to you!

With isolation and uncertainty, this can be a very scary time for all of us, and we are here to share empathy and solidarity with you through this. We highly encourage following reputable news sources, avoiding conspiracy theories, following the instructions of social distancing, hand washing and in general, lessening the opportunity of spreading. Keep in mind that these measures are important to ensuring the safety of those with compromised immune systems and the elderly. Use this time to be creative, read books, call friends and family, or do yoga. For those of us who can, please help support those of us having trouble. Reach out and check in on each other often.

We are closely following developments, but for now, we are cautiously looking forward to a magical weekend with you all in July! Thank you all for your continued support and your amazing self! We love you, and look forward to dancing with you soon!

~Cascadia NW Arts and Music Festival Producers
The Seattle Dirtybird BBQ has been canceled, and will hopefully be rescheduled:
Seattle BBQ pre-sale Ticket holders will also be refunded shortly and We are working on another solution for this August event. -Dirtybird 3/13/2020
Bass Canyon officially postponed to 2021, tickets carry over with upgrades & refunds available: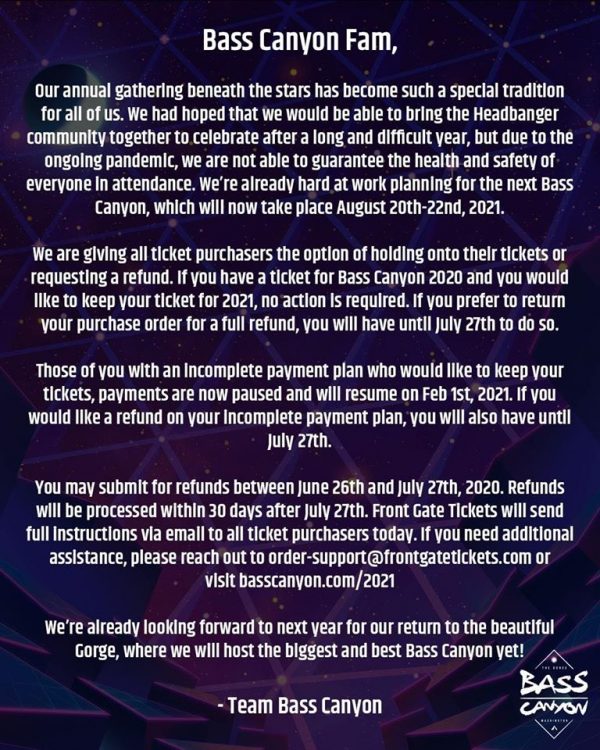 Bass canyon released the following on 3/30/2020: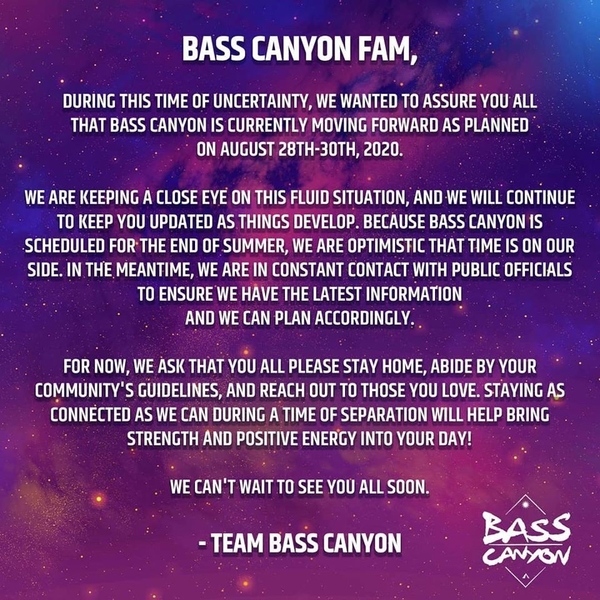 Bass Canyon also shared the following regarding payment plan tickets: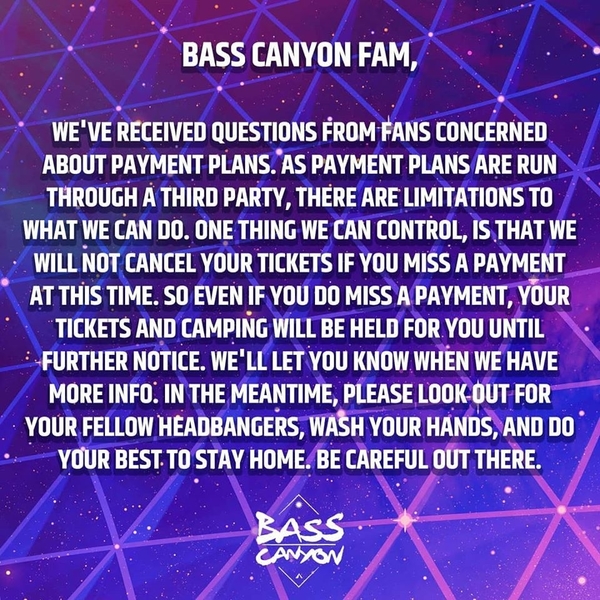 Events with no updates as of the writing of this post:
5/20/2020, 5/6/2020 & 4/9/2020: THIS POST HAS BEEN UPDATED TO REFLECT RECENT EVENTS.
Stay up to date on upcoming EDM events in the Seattle area by following the EmeraldCityEDM Event Calendar, and enter to win free tickets to local EDM shows on the EmeraldCityEDM Contests & Giveaways page.