Seven Lions​ at the Gorge was officially canceled due to the CoronaVirus on May 20th, 2020: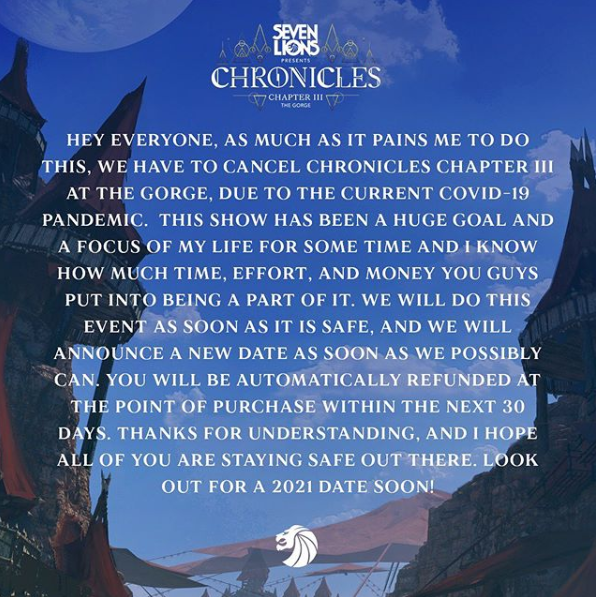 Previously posted:
Seven Lions​ presents Chronicles III on Saturday, July 11th at the Gorge!
The Gorge is one of my favorite venues in the world, and I am beyond stoked and humbled to be bringing Chronicles 3 there. I'll be joined by Boombox Cartel, Jason Ross, MitiS, Trivecta, and Gem & Tauri Music. I'll also be playing two sets – the closing set and the opening Observatory set. In the spirit of a Chronicles event, we will have brand new art installations and interactive experiences for you to explore. -Seven Lions
Lineup:
Seven Lions (opening & closing sets)
Boombox Cartel
Jason Ross
Mitis
Trivecta
Gem & Tauri
Links & More Information:
Purchase presale tickets
Register for Presale ticket access (Thursday, March 5th at 10am PST)
Facebook event page
18+
The Gorge Amphitheatre
754 Silica Road NW
George, WA 98848

Stay up to date on upcoming EDM events in the Seattle area by following the EmeraldCityEDM Event Calendar, and enter to win free tickets to local EDM shows on the EmeraldCityEDM Contests & Giveaways page.