Mad Decent and the 10th annual Decibel Festival present:  Mad Decent label Showcase featuring Flosstradamus with Gent & Jawns and Astronomar on Saturday, September 28th at the Showbox Sodo.  Enter here for your chance to win a pair of tickets from Decibel and EmeraldCityEDM!  Stay tuned to the EmeraldCityEDM Contests & Giveaways page for all current offerings.
About the Showcase:
Mad Decent Showcase:  Flosstradamus with Gent & Jawns and Astronomar
Saturday, September 28th at the Showbox Sodo
All Ages
9pm
Flosstradamus:  Chicago-based DJs J2K (Josh Young) and Autobot (Curt Cameruci) comprise Flosstradamus, who broke out  with their 2012 remix of Major Lazer's "Original Don".  Forgoing the usual press and promotion routes, Flosstradamus connects with their fans and shares music via multiple online methods, all of which can be accessed at flosstradamus.com.  
Adding unique twists to tracks and remixes in unexpected ways is the hallmark of the Flosstradamus sound, between remixing Sigur Ros to Matt & Kim, you never know what you're going to get next.  Flosstradamus' live performance energy is notorious, with the duo being temporarily banned from playing in Chicago due to their live sets inducing riots!  More information about Flosstradamus is available on the dBx Flosstradamus artist page.  Check out the latest remix from Flosstradamus of Major Lazer's Bubble Butt here:
Gent & Jawns:   Billy the Gent and Long Jawns are banded together as Gent & Jawns and have worked on remixes for Datsik, Bare, and Muffler, as well as collaborations with Nadastrom, Torro Torro and JWLS.  In early 2012 they worked with mega-producer Diplo on his Express Yourself EP, then they released "Holler," their first official EP on Mad Decent's Jeffrees label. The duo ended 2012 with "Turnup", a party-inducing track that was often called one of the top trap songs of 2012.
Astronomar:   Former Seattleite Astronomar has been stirring up and building alliances in the dance music community since he arrived in Seattle in 2008. Newly relocated to Los Angeles in 2013, he's seen by far his busiest year on the road, and in the studio, infiltrating the playlists of most every A-List DJ with ears. There's an intangible uniqueness to everything he does; a strong hip-hop influence permeates his productions, based on his earlier roots in hip hop & turntablism. The biggest names, from Diplo, to Skrillex, to A-Trak have supported his tracks by featuring them on their own mixes & radio shows, and playing them out nightly, around the world.
Showcase Links:
Facebook event page
Decibel Festival Website:  Mad Decent Showcase
Purchase Showcase Tickets Online (purchase at the Showbox box office to avoid service fees)
Win a pair of tickets from Decibel and EmeraldCityEDM!
EmeraldCityEDM Events Calendar
Decibel Festival General Information: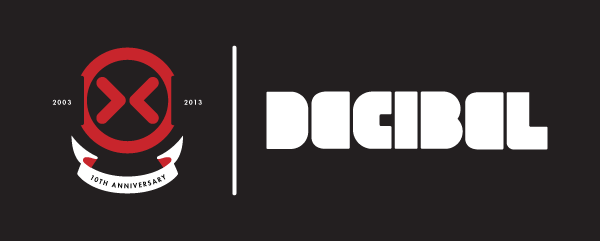 The 2013 Decibel Festival will be held at various venues in Seattle from September 25 – 29, 2013.  Named one of Beatport's "Most Anticipated Festivals of 2013", Decibel will be celebrating its 10 year anniversary with a bang.  For a complete list of confirmed artists please visit the dBx Program Page, where you can find the lineup by venue, by day.
Purchase festival passes here and individual event presale tickets here.  Tier III passes are currently on sale, and include access to all 32 showcases including all 4 after-parties (which have never been included in the pass previously!).   Stay up to date on upcoming public electronic dance music events in the Seattle area by following the EmeraldCityEDM Event Calendar.
Full Lineup: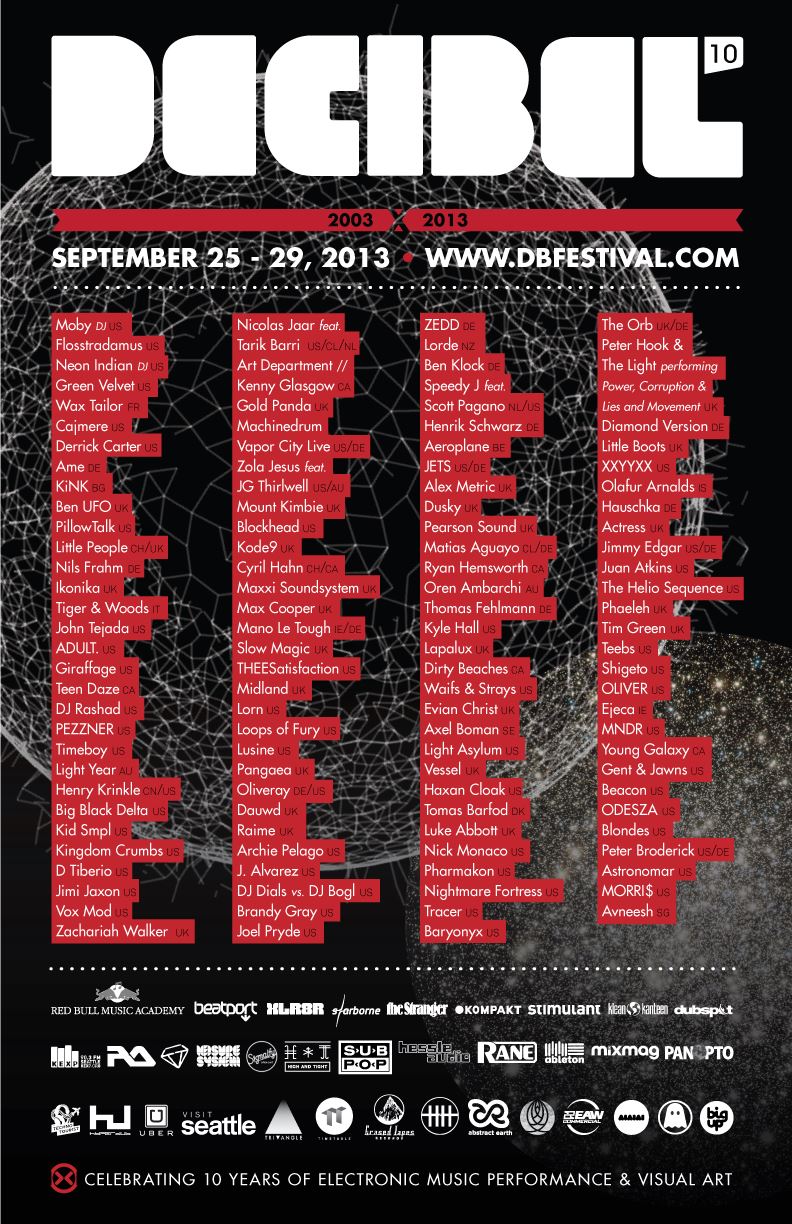 Moby – DJ set (US) // Nicolas Jaar feat. Tarik Barri (US / CL / NL) // Zedd (DE)*// The Orb (UK / DE) // Flosstradamus (US) // Art Department (Kenny Glasgow) (CA) // Lorde (NZ) // Peter Hook & The Light performing Power, Corruption & Lies and Movement (UK) // Neon Indian – DJ set (US) // Ben Klock (DE) // Diamond Version feat. Alva Noto & Byetone (DE) // Green Velvet (US) // Gold Panda (UK) // Speedy J feat. Scott Pagano (NL / US) // Little Boots (UK) // Wax Tailor (FR) // Machinedrum Vapor City Live (US / DE) // Henrik Schwarz (DE) // XXYYXX (US) // Cajmere (US) // Zola Jesus feat. JG Thirlwell & The Minos Quartet (US / AU) // Aeroplane (BE) // Olafur Arnalds (IS) // Derrick Carter (US) // Mount Kimbie (UK) // JETS (US / DE) // The Martinez Brothers (US) // Shabazz Palaces (US) // Nosaj Thing (UK) // Hauschka (DE) // Ame (DE) // Blockhead (US) // Alex Metric (UK) // Actress (UK) // KiNK (BG) // Kode9 (UK) // Dusky (UK) // Jimmy Edgar (US / DE) // Ben UFO (UK) // Cyril Hahn (CH / CA) // Pearson Sound (UK) // Juan Atkins (US) // PillowTalk (US) // Maxxi Soundsystem (UK) // Matias Aguayo (CL / DE) // The Helio Sequence (US) // Little People (CH / UK) // Max Cooper (UK) // Ryan Hemsworth (CA) // Phaeleh (UK) // Nils Frahm (DE) // Mano Le Tough (IE / DE) // Oren Ambarchi (AU) // Tim Green (UK) // Ikonika (UK) // Slow Magic (US) // Thomas Fehlmann (DE) // Teebs (US) // Tiger & Woods (IT) // THEESatisfaction (US) // Kyle Hall (US) // Shigeto (US) // John Tejada (US) // Midland (UK) // Lapalux (UK) // Dirty Beaches (CA) // OLIVER (US)* // ADULT. (US) // Lorn (US) // Waifs & Strays (UK) // Ejeca (IE) // Giraffage (US) // Evian Christ (UK) // MNDR (US) // Teen Daze (CA) // The Loops of Fury (US) // Axel Boman (SE) // Young Galaxy (CA) // DJ Rashad (US) // Lusine (US) // Light Asylum (US) // Gent & Jawns (US) // Pezzner (US) // Pangaea (UK) // Vessel (UK) // Beacon (US) // Timeboy (US) // Oliveray (DE / US) // The Sight Below (US) // Haxan Cloak (US) // ODESZA (US) // Light Year (AU) // Dauwd (UK) // Natasha Kmeto (US) // Tomas Barfod (DK) // Blondes (US) // Henry Krinkle (CN / US) // Raime (UK) // Luke Abbott (UK) // Peter Broderick (US / DE) // Big Black Delta (US) // Archie Pelago (US) // Nick Monaco (US) // Astronomar (US) // Kid Smpl (US) // J. Alvarez (US) // Pharmakon (US) // Natural Magic (US) // MORRI$ (US) // Kingdom Crumbs (US) // DJ Dials vs. DJ Bogl (US) // Nightmare Fortress (US) // DJAO (US) // Av Neesh (SG) // D Tiberio (US) // Ghost Feet (US) // Jimi Jaxon (US) // Brandy Gray (US) // Tracer (US) // Vox Mod (US) // Zachariah Walker (UK) // Joel Pryde (US) // Leo Mayberry (US) // Domokos (US) // Baryonyx (US) // Riff-Raff (US) + MORE TO BE ANNOUNCED
*EmeraldCityEDM notes that individual event tickets for the Zedd & Oliver event are already sold out, but you can attend the showcase as a part of the DBx Festival Pass.  EmeraldCityEDM confirmed this with Decibel's press contact.